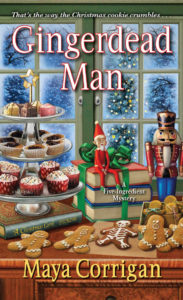 SNEAK PEEK: GINGERDEAD MAN BY MAYA CORRIGAN
Gingerdead Man by Maya Corrigan (Five-Ingredient Mystery #7)
When Santa is sleighed by a poison gingerbread cookie at a holiday party, Val Deniston's reputation is on the line . . .
This holiday season Bayport, Maryland, is a dead ringer for Victorian London. Val and her grandfather are taking part in the Dickens of a Holiday festival. Val is hosting a private tea party serving the festival's costumed volunteers, who range from Dickens divas like Madame Defarge and Miss Havisham to Ebenezer Scrooge and old St. Nick himself.
 
But one costumed reveler may have gotten the holidays mixed up. The winner of the creepiest outfit, robed in black with a gift bag covering the head—the Ghost of Christmas Presents, Val gets the pun—hands out gingerbread men with white icing skeleton bones. This year's sour Santa has none of the big fellow's mirth but plenty of his appetite, and it's no secret Santa loves cookies. But when the man in red turns blue, Val and Granddad have a cookie-cutter killer to catch before the New Year . . .
EXCERPT
"Merry Christmas!" Santa waved to everyone he passed as he walked toward the intersection where Val and Granddad stood. He looked at least a decade younger than Granddad and carried a lot more weight.
The big man smirked. "Well, if it isn't last year's Santa," he said, as if dismissing an outmoded flip phone. He gave Val the once-over and thrust out his hand to her. "I'm Jake Smith."
Val knew his name and had heard nothing good of him. "Val Deniston." She shook his hand.
He turned to Granddad. "Bet you're glad I took over as Bayport's Santa. You gotta leave strenuous jobs to younger men."
"What's strenuous about picking up little ones and sitting 'em on your lap? On second thought, it might be strenuous for you." Granddad looked pointedly at Santa's belly. "Hard for you to bend down."
"You're behind the times. Seated Santas and posed shots are out of fashion. Strolling Santas and candid shots are in. Parents take pictures with phones of their kids interacting with Santa. Even adults take selfies—or should I say, elfies?—with Santa." Jake laughed at his own joke. "You would know about Santa trends if you belonged to the I.B.R.B.S."
Granddad eyed him with suspicion. "The what B.S.?"
"I.B.R.B.S. The International Brotherhood of Real Bearded Santas." Jake patted his chin. "You have to admit I have a better beard than you."
Val wondered if Jake had made up the organization. She studied his facial hair. By tradition the Bayport Santa sported a real beard, and his wasn't fake, though its color was. His beard and the hair on his head had dark roots.
Granddad stroked his fluffy beard with one hand and pointed toward Santa's with the other. "Your beard is longer, but mine is thicker."
The one-upmanship could have been banter between old friends, but the tone and body language suggested otherwise. Val focused on the part of Santa's face not covered by a beard. He had no deep furrows between his brows or creases at the corners of his eyes. His nose and cheeks were deep pink to light red. He was younger than she'd assumed at first, probably his late fifties. Not many men in that age group dyed their hair white. Either he really wanted to play Santa or he had another reason for making himself look older.
Santa's face puckered up, his eyes closed, and his mouth opened wide. "AHH-CHOO!"
His sneeze sounded like a wild animal's distress cry. Santa hadn't covered his mouth, but at least he'd turned his head and spewed his germs to the side rather than at Val and Granddad. As his eyes and his mouth widened again, Val buried her head in her cloak, Granddad pulled his scarf up over his face, and they both backed away. Santa's second sneeze broke the volume record set by his first one. He pulled out a big red handkerchief, covered his nose, and honked into it.
Granddad glared at him. "With that cold, you shouldn't be near kids."
Santa flicked his wrist. "I'll keep them at arm's length, and I have cough syrup." He reached into his pocket and took out a flask.
"Jake!" a woman called from down the street. She sounded like a mother summoning a wayward child.
Santa hastily tucked away his flask. "Here comes Mrs. Claus." His tone suggested a man resigned to his fate.
Val looked around for a plump motherly woman in granny glasses, white hair under a bonnet, and a red sack dress. Instead, a svelte woman with a pointed nose and prominent cheekbones approached them. Her straight black hair grazed the white fur collar of her short red coat dress. The chunky heels of her thigh-high black suede boots clicked on the brick sidewalk.
"You can't hide from me, Santa honey." She said with a drawl. "I could hear that sneeze miles away." She gave Val and Granddad a tight smile. "Hi, y'all. I'm Jewel Smith, his wife."
Val and Granddad introduced themselves to her.
Red velvet was the only thing Santa and his wife had in common. She looked ten years younger. He was round and soft. She was angular and sharp. His hair was fake white and hers fake black. As she finger-combed it, Val stared at Jewel's crimson claws. Each had a tiny bow on it painted in green nail polish. If her fingernails had been cut blunt, they would have resembled miniature holiday boxes, but filed into points, they looked like sharp weapons, ten little lethal gifts.
Gingerdead Man is available at …
Amazon:
https://www.amazon.com/Gingerdead-Five-Ingredient-Mystery-Maya-Corrigan/dp/1496722442/
IndieBound: https://www.indiebound.org/book/9781496722447
Barnes and Noble:
https://www.barnesandnoble.com/w/gingerdead-man-maya-corrigan/1135644819
More purchase links and a longer sample at Kensington Books: https://www.kensingtonbooks.com/9781496722447/gingerdead-man/
ABOUT THE AUTHOR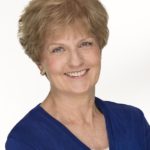 Maya (Mary Ann) Corrigan combines her passion for food and detective stories in her Five-Ingredient Mysteries: By Cook or by Crook, Scam Chowder, Final Fondue, The Tell-Tale Tarte, S'more Murders, Crypt Suzette, and Gingerdead Man. The series features a café manager and her live-wire grandfather, the Codger Cook, who solve murders in a historic town near the Chesapeake Bay. Each book has five suspects, five clues, and Granddad's five-ingredient recipes.
Ms. Corrigan lives in a Virginia suburb of Washington, D.C. Before writing crime fiction, she taught American literature, writing, and detective fiction at Northern Virginia Community College and Georgetown University. When not reading and writing, she enjoys theater, travel, trivia, cooking, and crosswords. Visit her website for book details, recipes, trivia quizzes, and a free culinary mystery story.
Learn more about Maya and her books by following these links:
Website: https://mayacorrigan.com
Facebook: https://www.facebook.com/mayacorriganbooks/
Group Blog: https://www.mysteryloverskitchen.com
Goodreads: https://www.goodreads.com/author/show/7813064.Maya_Corrigan