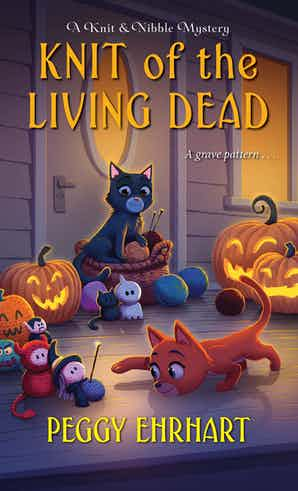 Knit of the Living Dead — A Knit & Nibble Mystery # by Peggy Ehrhart
When a spooky celebration in Arborville, New Jersey conjures real scares, can Pamela and the Knit and Nibble Club sink their teeth into a bone-chilling mystery that just won't rest in peace?
Among the countless revelers at the town's much-anticipated Halloween parade, a woman dressed as Little Bo Peep is the only one making people scream bloody murder. In a scene straight out of a horror movie, the Knit and Nibblers find the nursery rhyme character dead with thick strands of yarn looped around her neck. Pamela and her best friend, Bettina, are set on pinning down who wanted the woman gone forever, but it'll take every trick they can muster to catch the culprit without becoming the next poor souls to join Little Bo Peep's dark, endless sleep . . .
Knitting tips and delicious recipes included!
CLICK THIS LINK TO PURCHASE KNIT OF THE LIVING DEAD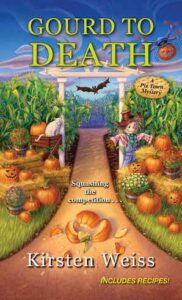 Gourd to Death — A Pie Town Mystery #5 by Kirsten Weiss
This Halloween, pie shop proprietor Val Harris must patch together clues to solve a murder by pumpkin . . .
As the owner of Pie Town, Val's been tapped to judge the pie making contest at the annual pumpkin festival in the coastal California town of San Nicholas. Things could get sticky though—her boyfriend, cop Gordon Carmichael, is entering the competition with his "special" family pumpkin pie recipe. But Val's got bigger problems than a conflict of interest when she and her flaky piecrust-maker Charlene discover another contestant crushed under an enormous pumpkin.
When grudge-holding Chief Shaw comes up with a half-baked reason to toss Carmichael off the case and onto the suspect list, it's up to Val and Charlene to find the tricky killer. But as they dodge lethal pumpkin cannons and follow the clues into a figurative and literal maze, the pie pals are in for the scariest Halloween of their lives—and it may be their last . . .
CLICK THIS LINK TO PURCHASE GOURD TO DEATH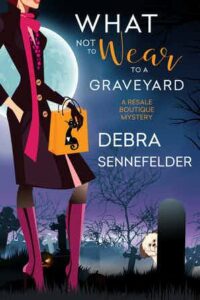 What Not to Wear to a Graveyard — A Resale Boutique Mystery by Debra Sennefelder
After trading her Manhattan digs for her upstate hometown, fashionista Kelly Quinn has big plans for her grandmother's consignment shop. But this All Hallow's Eve someone is already dressed to kill . . .
 
A socialite's missing dog has made front page news in Lucky Cove—complete with a hefty reward. But between renovating the consignment shop, planning her costume for a 1970s themed Halloween party, and scouting a location for a fashion shoot, Kelly doesn't have time to search. Yet a visit to the local colonial-era cemetery—ideal for the moody atmosphere she's after—soon turns up the precious pooch. Kelly's looking forward to collecting the check—until she makes a gruesome discovery in an abandoned farmhouse: The dog's owner, stabbed through the heart.
Kelly can't help wondering why Constance Lane was traipsing around the farmhouse in stilettos. But as Kelly gets decked out in a vintage disco caftan, that isn't the only fashion misstatement spooking her. Hidden in the dead woman's past is a secret that could be the motive for the murder. And as the Halloween party gets started, even a menacing clown and a threatening bearded lady can't keep Kelly from trick or treating for the truth—even if it means her last dance . . .
CLICK THIS LINK TO PURCHASE WHAT NOT TO WEAR TO A GRAVEYARD