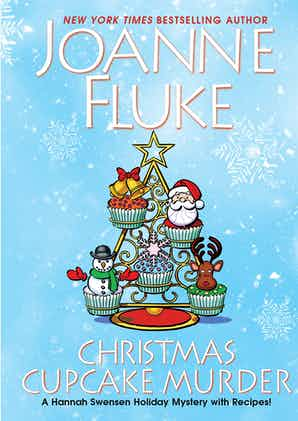 Christmas Cupcake Murder — A Festive & Delicious Christmas Cozy Mystery
A Hannah Swensen Mystery by Joanna Fluke
The befuddled John Doe can't recall a thing about himself—except for his unusual knowledge of restoring antique furniture. With a smattering of clues and barely enough time to frost Christmas cookies, Hannah must solve a deadly puzzle that could leave her dashing through the snow for her life!
You can purchase CHRISTMAS CUPCAKE MURDER at:
Kensington Books/Retailers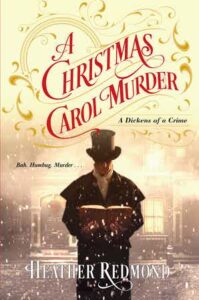 A Christmas Carol Murder — A Dickens of a Crime #3
by Heather Redmond
The latest novel from Heather Redmond's acclaimed mystery series finds young Charles Dickens suspecting a miser of pushing his partner out a window, but his fiancée Kate Hogarth takes a more charitable view of the old man's innocence . . .
London, December 1835: Charles and Kate are out with friends and family for a chilly night of caroling and good cheer. But their blood truly runs cold when their singing is interrupted by a body plummeting from an upper window of a house. They soon learn the dead man at their feet, his neck strangely wrapped in chains, is Jacob Harley, the business partner of the resident of the house, an unpleasant codger who owns a counting house, one Emmanuel Screws.
Ever the journalist, Charles dedicates himself to discovering who's behind the diabolical defenestration. But before he can investigate further, Harley's corpse is stolen. Following that, Charles is visited in his quarters by what appears to be Harley's ghost—or is it merely Charles's overwrought imagination? He continues to suspect Emmanuel, the same penurious penny pincher who denied his father a loan years ago, but Kate insists the old man is too weak to heave a body out a window. Their mutual affection and admiration can accommodate a difference of opinion, but matters are complicated by the unexpected arrival of an infant orphan. Charles must find the child a home while solving a murder, to ensure that the next one in chains is the guilty party . . .
You can purchase A CHRISTMAS CAROL MURDER at:
Kensington Books & Retailers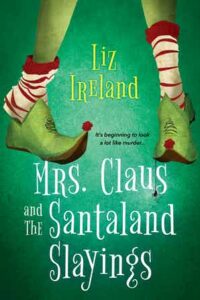 Mrs. Claus and the Santaland Slayings — A Funny & Festive Christmas Cozy Mystery
by Liz Ireland
This Christmas season, travel to the North Pole you've never seen before—where Santa's new wife, April Claus, is not only set on creating the perfect holiday—she's also set on solving the perfect crime…
Love is full of surprises—though few compare to realizing that you're marrying the real-life Santa. April Claus dearly loves her new husband, Nick, but adjusting to life in the North Pole is not all sugarplums and candy canes. Especially when a cantankerous elf named Giblet Hollyberry is killed—felled by a black widow spider in his stocking—shortly after publicly arguing with Nick.
Christmastown is hardly a hotbed of crime, aside from mishaps caused by too much eggnog, but April disagrees with Constable Crinkle's verdict of accidental death. As April sets out to find the culprit, it'll mean putting the future of Christmas on the line—and hoping her own name isn't on a lethal naughty list . . .
You can purchase MRS. CLAUS AND THE SANTALAND SLAYINGS at:
Kensington Books & Retailers