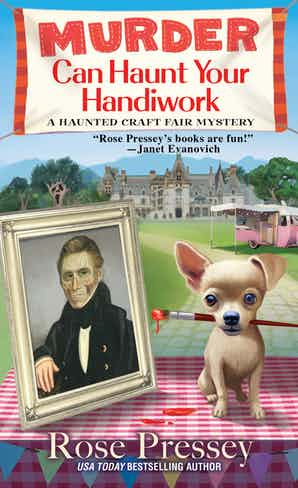 Murder Can Haunt Your Handiwork – A Haunted Craft Fair Mystery #3
by Rose Pressey
In Rose Pressey's third Haunted Craft Fair Mystery, a Gilded Age ghost helps psychic painter Celeste Cabot catch a killer during the Biltmore Estate's annual craft fair in North Carolina…
Rising up against the beautiful backdrop of the Blue Ridge Mountains, the Biltmore Estate is a magnificent mansion in Asheville, North Carolina, built as a summer home for George Washington Vanderbilt II–yes, of those Vanderbilts–during the Gilded Age. Nowadays, it's the site of an annual craft fair. Unfortunately, it's also about to become a crime scene…
Celeste is hard to miss as she pulls up with her pink and white Shasta trailer and adorable Chihuahua, Van Gogh–Van for short. But before she can show off her artwork at the fair, a tour guide is found strangled by a velvet rope barrier and a valuable painting goes missing. With a rogues' gallery of sketchy suspects, Celeste welcomes the help of a pair of handsome detectives–and a ghost with a special interest in the case…
YOU CAN PURCHASE MURDER CAN HAUNT YOUR HANDIWORK AT:
Various Retailers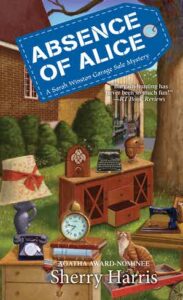 Absence of Alice – A Sarah W. Garage Sale Mystery #9
by Sherry Harris
For bargain hunter extraordinaire Sarah Winston, starting life over in Ellington, Massachusetts, has been a true trash-to-treasure success story, except when there's a run on dead bodies…
Sarah's latest client, Alice Krandle, is sure she has a fortune in antiques on her hands. She's already gotten a generous offer for the whole lot before her garage sale has even begun, but she thinks she can earn more with Sarah's expert help. The problem is that while Sarah's sorting through items from decades past, her landlady, Stella, faces a clear and present danger.
Stella's kidnapper has contacted Sarah with a set of instructions, and "Don't call the police" is at the top of the list. But they didn't say anything about Sarah's friend Harriet–who happens to be a former F.B.I. hostage negotiator…
YOU CAN PURCHASE ABSENCE OF ALICE AT:
These Retailers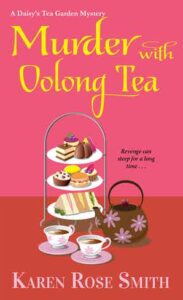 Murder with Oolong Tea – A Daisy's Tea Garden Mystery #6
by Karen Rose Smith
In bestselling author Karen Rose Smith's sixth delightfully devious Daisy's Tea Garden Mystery, Pennsylvania Amish country's favorite tea house proprietor, Daisy Swanson, finds herself going back to school expecting to serve tea–only to get a crash course in criminal justice!
The faculty of Willow Creek High School are having a get-together after the spring concert with refreshments provided, courtesy of Daisy's Tea Garden. Oolong tea and chocolate biscuits are just what the staff needs to help them unwind from Althea Higgins' demanding curriculum. Her lessons on such controversial subjects as school uniforms and under qualified substitute teachers are earning her an F from her colleagues.
But a failing grade was preferable to Althea falling victim to foul play. Daisy was there when her body was discovered in the school swimming pool, murdered by strangulation. Althea was certainly a strict, opinionated taskmaster, unliked by both teachers and students, but would any of them actually want to kill her? As Daisy starts asking questions, she gets a real education in Althea's history, discovering more than enough enemies with more than enough motives to cancel her classes permanently…
YOU CAN PURCHASE MURDER WITH OOLONG TEA AT:
These Retailers