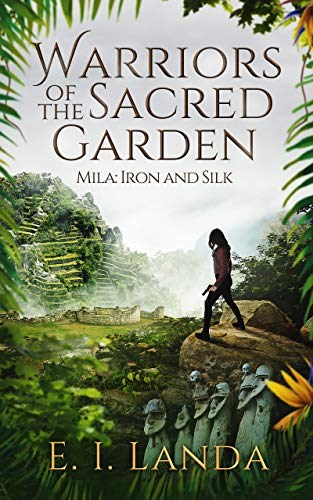 Warriors of the Sacred Garden: Mila: Iron and Silk by E. I. Landa
Deep in the heart of Amazonas, in the Cloud Forest, a baby girl is born: Mila Tzofia Ferro, whose name means "warrior, wisdom, and iron." Many years before, in the same place, an exceptional gift was entrusted to a group of warriors called the Cloud People. While Mila's life will lead her away from Amazonas, she will inevitably be drawn back to the cloud forest and its secret. But first, Mila must confront her own.
While still a baby, Mila's father becomes trapped in the web of the Norfolks-a family of powerful pharmaceutical tycoons-and pays for his entanglement with his life. As Mila grows up, she faces more challenges, including the discovery of her unsettling abilities. Yet Mila is also blessed with a strong, loving family: her caring mother wants to show her the beauty of our world. Mother and daughter move from Peru to Italy to Switzerland to Israel-gaining knowledge in each place that will come to serve Mila later. Shortly after they return to Peru, Mila meets Eli, a young, kind American scholar with his own strange abilities.
Just as Mila and Eli begin to fall in love, the Norfolks attempt to procure an archaeological artifact found in French Polynesia. But they are not the only ones interested in the black-market artifact. As this remnant from Amazonas resurfaces, a chain reaction is set off and Mila understands she must come to terms with her roots, the reason for her unusual upbringing, and her unique abilities in order to fight alongside the people she loves.