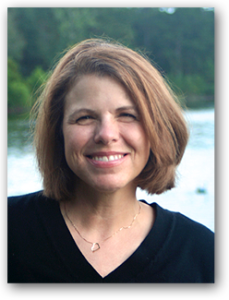 When I was a little girl growing up in the late Fifties and Sixties, everyone from astronauts and pilots to generals and government officials were almost invariably men. Women were First Ladies; they didn't run for president. Little boys were encouraged to become doctors; girls found "nurse kits" under their Christmas trees. When my parents took me fishing and camping, we had to buy my sturdy jeans and hiking boots in the boys' department.
The same was true in fiction. Both Hollywood and the novels we borrowed from the library reinforced these stereotypes; the cowboys, lawyers, doctors, and detectives we admired, whether in print or on the big and little screen, were almost always male. As a teen, I loved the stories written by women like Victoria Holt and Mary Stewart because their heroines were actually allowed to have adventures. But they were typically accidental adventures; they didn't involve career choices.
When I was asked to write this essay about a real-life (not fictional) woman who inspired me, I found myself at something of a loss. Inspiration implies influence; someone who inspires us makes us want to do something we didn't want to do before, or gives us the confidence that we can do it. And the only woman I can think of who fits that description is my mother. Somehow she managed to raise two daughters who never saw their gender as an impediment to reaching for their dreams, no matter what the world around us was saying.
When I enrolled at university majoring in archaeology and Classics, I had one female instructor—an aged literature professor—in my entire undergraduate career. When I worked on digs from Tennessee to San Juan, Victoria, Australia, and Winchester, England, I had female coworkers but no female supervisors. I was the first woman to earn a PhD in history from my university; the first hired as a history professor at the university where I landed my first job. Did I see myself as a trailblazer? Oddly, no.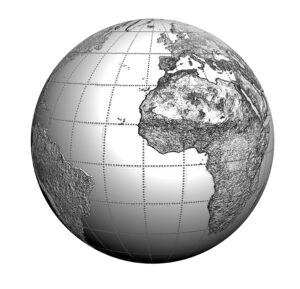 But as I look back at this aspect of my life, now, at a time when little girls are wearing T-shirts that say, My Vice President Looks Like Me, I realize just how terribly important those children's pride—and the new reality that inspires it—is. I was lucky; I had a mother (and father) who never questioned their daughters' intelligence or ability. It's amazing how much I took that for granted.
When my mother was growing up, most girls (including her own big sisters) stopped school after the eighth grade. She not only completed high school, but also earned a scholarship to college. She wanted to be a journalist. But that was the mid-Thirties; the Great Depression was biting deep, and my grandfather lost his businesses. My mother gave up her scholarship and her dream, and went to work as a secretary to help feed the family. She ultimately lived a wonderful life, married a dashing USAF officer, traveled the world, and finally managed to have two children she adored. But after she died I found amongst her papers short stories she had written but never tried to publish. And I sat with those stories in my hands and cried. Neither of her daughters—both multi-published novelists (my sister is the NYT bestselling author Penelope Williamson)—ever realized we were living the dream to which she had once aspired. And I found myself wondering who had inspired the young woman my mother once was to pursue a career open to few women of her generation. I never knew.
Role models are precious things, and the little girls growing up today are so lucky. Successful women are visible everywhere; they can be professors, doctors, lawyers, or fighter pilots as well as teachers, secretaries, and nurses. The world is open to them. I look at my own two daughters—one with a PhD in psychology, the other a flight surgeon and USAR major—and I wonder, Did I inspire them? I don't know.
But I hope so.
C.S. Harris is the USA Today bestselling author of more than twenty-five novels, including the Sebastian St. Cyr mystery series; as C. S. Graham, a thriller series coauthored by former intelligence officer Steven Harris; and seven award-winning historical romances written under the name Candice Proctor. The next book in the Sebastian St. Cyr historical mystery series is WHAT THE DEVIL KNOWS (Berkley Hardcover; April 6, 2021).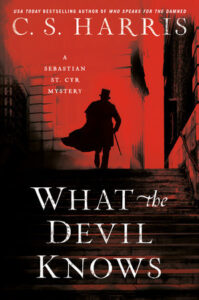 ABOUT THE BOOK
Sebastian St. Cyr thought a notorious killer had been brought to justice until a shocking series of gruesome new murders stuns the city in this thrilling historical mystery from the USA Today bestselling author of Who Speaks for the Damned.
It's October 1814. The war with France is finally over and Europe's diplomats are convening in Vienna for a conference that will put their world back together. With peace finally at hand, London suddenly finds itself in the grip of a series of heinous murders eerily similar to the Ratcliffe Highway murders of three years before.
In 1811, two entire families were viciously murdered in their homes. A suspect–a young seaman named John Williams–was arrested. But before he could be brought to trial, Williams hanged himself in his cell. The murders ceased, and London slowly began to breathe easier. But when the lead investigator, Sir Edwin Pym, is killed in the same brutal way three years later and others possibly connected to the original case meet violent ends, the city is paralyzed with terror once more.
Was the wrong man arrested for the murders? Bow Street magistrate Sir Henry Lovejoy turns to his friend Sebastian St. Cyr, Viscount Devlin, for assistance. Pym's colleagues are convinced his manner of death is a coincidence, but Sebastian has his doubts. The more he looks into the three-year-old murders, the more certain he becomes that the hapless John Williams was not the real killer. Which begs the question–who was and why are they dead set on killing again?