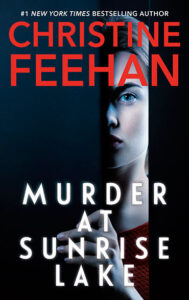 #1 New York Times bestselling author Christine Feehan is a prolific writer as evidenced by this year's new releases. She just released her new standalone entitled Murder on Sunrise Lake which is the author's first murder mystery/romantic suspense. Still left in 2021 are Dark Tarot which has a beautiful cover. The book trailer for Dark Tarot just went into production and we're very excited to see it! Also this year is Annihilation Road which is the first of two novels dedicated to the popular Torpedo Ink character named Savage. In total that's six brand new novels in 2021. And next year that momentum continues with six new novels again.
                                                                  2022
Savage Road  Jan. 25th 
Savage Road is the second book that will feature Savage and Seyshelle. Annihilation Road will give us the story about how they meet and get together. It's a full story and not really a "part 1 of 2". This book does not end on a cliffhanger. The second book, which is out January 25th is a continuation of their story. For those who follow the series, you know Savage is a very dark and complicated character. The author herself said she wasn't sure she'd ever publish his story but so many readers asked for it she decided she'd write it even though it would take two books to really see how such a complicated character could find acceptance and love.  So, yes he finds love (Annihilation Road) but can he keep it and can she live with it (Savage Road)?  Savage Road will come with trigger warnings since the material addresses sadism and abuse, but it is overall a story of hope.
Phantom Game March 1st
Feehan is taking us back to Team 1 where it all began years ago with Shadow Game when we were first introduced to the GhostWalkers. If you recall, those first GhostWalkers had a lot of problems. The hero is Jonas and the heroine is Cami.
Shadow Fire April 26th
The Shadow Rider saga continues! We've run out of Ferraros from Stefano's group so now the question is…whose story is next? According to an interview the author did recently she is considering Elie as the hero, but she wasn't ready to confirm that just yet.
Red on the River July 5th
This is another standalone but will feature one of the women we met in Murder at Sunrise Lake. The two books aren't tied together so are not considered a series. The author hasn't revealed who will be the heroine for this book yet but we do know there will be murder!
Dark Whisper Nov. 1st 2022
We know Dark Tarot is taking us in an interesting direction with this series and speculate that Dark Whisper may also head down that path. Of course, the author is being very tight-lipped about any ideas for Dark Whisper so it's anyone's guess as to what the theme will be about or who the hero/heroine will be.
Leopard's Scar Nov. 29th
No, sadly we have no idea whose book this will be or if it will have any ties at all to the last leopard book. But we are thrilled to see a new leopard book come out!
We're very excited about the upcoming releases!