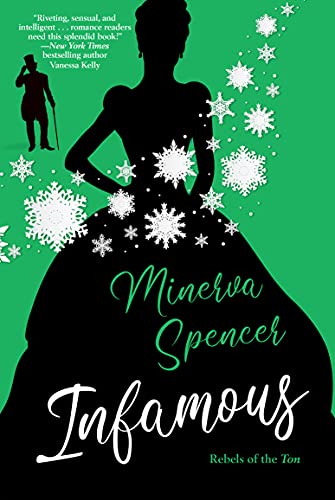 Infamous: A Witty Historical Regency Romance Book by Minerva Spencer
Critically acclaimed author Minerva Spencer brings a rebellious spirit to the Regency with her Rebel of the Ton series focused on how the youth of that era subvert the social expectations and mores of the day in order to carve their own paths in life. Perfect for fans of Bridgerton and readers craving romance that turns expected tropes upside down, Minerva Spencer weaves a tale of a disgraced former ton mean girl and a geeky ugly duckling turned handsome lord. Their pairing is explosive and the results are unforgettable!
Bridgerton fans and readers of Scarlett Scott, Darcy Burke, and K.J. Jackson won't want to miss this smart and stirring new holiday love story from the acclaimed author of Outrageous.
"Riveting, sensual, and intelligent…romance readers need this splendid book!" —USA Today bestselling author Vanessa Kelly
A mean girl reformed…
Once the reigning beauty of her social set, Celia—whom the newspapers dubbed Lady Infamous—has fallen on hard times and is practically destitute, her reputation in shreds. When Celia is forced to attend a society wedding as a companion to an elderly guest, she must confront the clique she once commanded; the gentleman she'd once hoped to marry—who is now wed to a girl Celia relentlessly taunted; and the powerful man who ruined her life a decade before—and is threatening to do so again….
A hero transformed…
Then there is Richard, the studious boy Celia used to ridicule, who is now gorgeous, wealthy, and more-than-a-little famous. As a youth, Richard was infatuated with Celia. He still seems intrigued, but Celia has acquired a shocking secret along with her hard-won humility. Will it put an end to the love blossoming between them? Does she have the courage to find out?
"Readers will be delighted."—Publishers Weekly