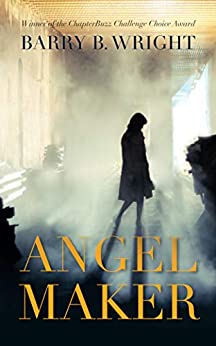 ANGEL MAKER BY BARRY B. WRIGHT
Meet evil that is impossible to forget. This historical espionage adventure novel, which begins on the eve of World War II, invites you for a journey inside the murderous mind of a psychopathic killer.
The gruesome murder of a young child, Rebecca Grynberg, pushes Inspector Alexander Collier into a treacherous investigation—and places his own family in jeopardy. Propelled into a world of seemingly unconnected murders, he soon learns that the lives of his son, his son's fiancée, and her Jewish family in Nazi Germany all hang in the balance because of his involvement.
For help seeking justice for the murdered child, Collier joins forces with an unlikely group of people that includes a psychic medium, a NKVD Soviet agent, and a British agent with a prosthetic leg she calls "Cuthbert."
Will Inspector Collier save his son and his fiancée's Jewish family among the turmoil of Nazi Europe, or will the Gestapo win the day? This historical spy thriller delivers suspense, revenge, romance—naughty bits and all—and plenty of sharp turns as Inspector Collier races to bring a killer to justice.
Angel Maker is an exciting crime investigation and action adventure thrill ride that will take you from the shores of Bournemouth, England, across the English Channel to Paris, France, and into the heart of Berlin, Nazi Germany.
Hold on to your pages, things will go bump in the night.
Amazon.com:  Angel Maker – Kindle edition by Wright, Barry B.. Mystery, Thriller & Suspense Kindle eBooks @ Amazon.com.
ABOUT THE AUTHOR:
Barry B. Wright is a retired high school teacher and the author of Betrayal of Trust
(November 8, 2012), and Angel Maker (early release, November 27, 2020), both sold on Amazon. First drafts of short stories (included in a collection called Welcome to My Garden) and novels are available at https://www.chapterbuzz.com/bawright.
He counts his experiences in education, acting, environmental initiatives, and local politics as some of the strongest influences on his writing.
Barry is also the co-author of the Mathscope series, the first mathematics series for Prentice-Hall Canada, and A Guide to Public Involvement, published by the Canadian Standards Association. Currently, Barry is working on his third novel, Sunnyvale.
He and his wife divide their time between Priceville and Brampton, Ontario.