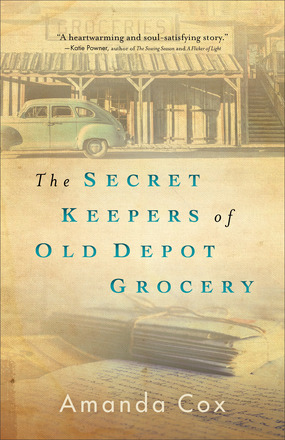 The Secret Keepers of Old Depot Grocery by Amanda Cox
1965. Glory Ann confesses to her family that she's pregnant with her deceased fiancé's baby. Pressured into a marriage of convenience with a shopkeeper to preserve her family's reputation, Glory Ann vows never to love again. But some promises are not as easily kept as she imagined.
This dual-time story from Amanda Cox deftly explores the complexity of the mother-daughter relationship, the way the secrets we keep shape our lives and the lives of others, and the healing power of telling the truth.
"A heartwarming and soul-satisfying story."–Katie Powner, author of The Sowing Season and A Flicker of Light

"Beautiful, inspiring, emotional, masterful."–Heidi Chiavaroli, Carol Award-winning author of Freedom's Ring and The Orchard House

"Luminous and lyrical . . . storytelling of the finest sort."–Amanda Barratt, author of The White Rose Resists and My Dearest Dietrich
ABOUT THE AUTHOR:
Amanda Cox is the author of The Edge of Belonging. A blogger and a curriculum developer for a national nonprofit youth leadership organization, she holds a bachelor's degree in Bible and theology and a master's degree in professional counseling, but her first love is communicating through story. Her studies and her interactions with hurting families over a decade have allowed her to create multidimensional characters that connect emotionally with readers. She lives in Chattanooga, Tennessee, with her husband and their three children. Learn more at AmandaCoxWrites.com.