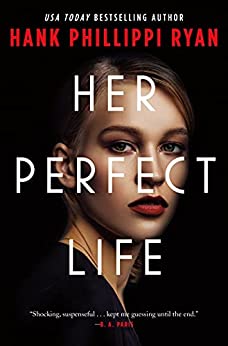 HER PERFECT LIFE BY HANK PHILLIPPI RYAN
Massachusetts author Hank Phillippi Ryan is highly lauded for her work as an investigative reporter and journalist, having been responsible for new laws, people sent to prison, homes removed from foreclosure, and millions of dollars in refunds and restitution for victims and consumers, and winning 36 Emmy Awards as an investigative reporter for WHDH-TV in Boston as well as 14 Edward R. Murrow Awards for investigative and consumer reporting. As an author of considerable note, she has been the winner of 5 Agatha Awards, 3 Anthony Awards, the Daphne Du Maurier Award, the Mary Higgins Clarke award, a guest of Honor at Bouchercon 2019, and her novels have been Library Journal's 'best ofs' for 2014 to 2016. Hank is the founding teacher at Mystery Writers of America University
Having read and enjoyed other Ryan novels, opening this story is a guarantee her art of mystery writing will activate curiosity and entertainment as her Prologue promises –'They say you can't choose your family, but if you could, I would still have chosen Cassie, She was my big sister, and everything she did was perfect…When Cassie went away to college that year, something changed…That first college winter vacation, my mother found a notebook, one of those black ones with white dots on the cover. She opened it to the first page. I saw her face change…"This is not the work of a happy person."…And presto, a secret is created that permeates this exceptional mystery!
So how does Ryan apply the above invitation to the story? The plot outline follows: 'Everyone knows Lily Atwood―and that may be her biggest problem. The beloved television reporter has it all – fame, fortune, Emmys, an adorable seven-year-old daughter, and the hashtag her loving fans created: #PerfectLily. To keep it, all she has to do is protect one life-changing secret. Her own. Lily has an anonymous source who feeds her story tips – but suddenly, the source begins telling Lily inside information about her own life. How does he – or she – know the truth? Lily understands that no one reveals a secret unless they have a reason. Now she's terrified someone is determined to destroy her world – and with it, everyone and everything she holds dear. How much will she risk to keep her perfect life? And what if the spotlight is the most dangerous place of all?'
Once again Hank Phillippi Ryan offers a masterfully crafter novel. Not only is the prose eloquently written, but also the author's ability to maintain suspense throughout this mesmerizing story makes this a completely satisfying journey into legalese and psychological confrontations. She ranks in the top tier of contemporary mystery authors. Highly Recommended.