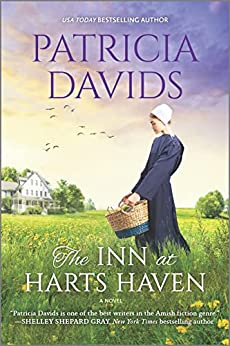 The Inn at Harts Haven: A Novel (The Matchmakers of Harts Haven Book 1) By Patricia Davids
USA Today bestselling author Patricia Davids brings her beloved Amish romances to the trade paperback format for the first time in this emotional new novel about two strangers from different worlds, both trying to outrun the past, who find a home among the endearing Amish residents of Harts Haven, Kansas.
"Patricia writes with heart, integrity and hope. Her stories both entertain and edify—the perfect combination." —Kim Vogel Sawyer, award-winning and bestselling author
In this close-knit Amish community, she'll hide in plain sight…
Pregnant and desperate, Victoria Worthington runs to the only place that's ever felt safe. For years she's been controlled, first by her crime-boss father, then by her ex-boyfriend. Donning a hand-sewn dress, a kapp and a new name, she escapes as Abby Martin to the Amish community of Harts Haven, where she spent happy summers with her grandparents. Taking a job as a maid at the local inn, Abby plans to repair her grandparents' abandoned house and build a new life for her baby.
Since a tragedy took his family, contractor Joseph Troyer has traveled from one Amish town to another, refusing to let anyone get close. Not that it stops the inn's elderly, eccentric owner, Rose, from doing some matchmaking while Joe renovates her kitchen. Though Abby is more outspoken than any Amish woman he knows, something draws him to her—and to the secrets she's hiding.
Taken under Rose's wing, Abby begins to find her place at last. But even here there's no hiding from the past. Only by facing it with courage, faith and the unexpected gift of love can this haven become the home she's longed for.