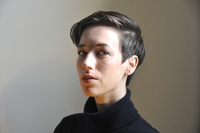 Today, Behind the Words we welcome Lara Elena Donnelly, poet, Nebula nominee, and author of BASE NOTES, to the blog. 
Where are you from, where do you live, and writing your full-time job? 
I'm from a tiny village in Ohio. After college I lived in Louisville, Kentucky for a couple of years, and now I'm firmly ensconced in New York (Upper Manhattan, to be exact). Alas, writing is not my full-time job—40 hours a week I'm an executive assistant, which pays the bills and keeps me in health, vision, and dental insurance.
How long have you been writing? 
At least since fifth grade. Shout out to Ms. Pettiford! Thanks for encouraging your students to write stories.
What does your typical writing day look like?
When I'm on deadline, I usually knock off day job work at 5:30, and then collapse for a bit while my partner cooks dinner (I love cooking but when you're on deadline you have about a quarter of a brain cell for anything besides work, survival, and word count). We eat, and then I sit down around 8:00 p.m. to write until 10:30 or 11:00 p.m. On the weekends I'll usually write for a few hours in the morning, do real life human stuff (volunteer in the community garden, knit socks, go shopping), and then get a few hours in at the end of the day as well.
For a while in 2018 and 2019 I was teaching and freelancing, and my writing schedule was much more catch-as-catch-can. I still did evenings pretty reliably, but also did a lot of "a hundred words on a short story, clean the kitchen, read some student work, a hundred words on a novel draft, eat a snack, a page of a comic book, plan some lessons…" That was great. I'd do it again, if I wasn't worried about getting another bad Medicaid filling.
Tell our readers about your latest release. 
It's not exactly true that Base Notes was inspired by my bad filling, but the bad filling is evocative of the experiences that inspired the book: being broke in an expensive city, trying to make art but also trying to make rent.
It's a psychological thriller about an indie perfumer who has a side hustle in murder for hire, and an uncanny ability to evoke memories with scent. You want to relive your first kiss? Great. Vic Fowler can make that perfume for you, if you're willing to pay through the nose. The only catch? Vic's going to need to kill the kisser for ingredients. When a big commission comes through—four murders in a row, all former clients—it's a job too big for one person. Enter a cast of starving artists, Vic's friends, all desperate for a break.
Base Notes is a book about how far people will go when they've been pushed too hard. When they have wanted something for a long time, and have no hope of getting it. It's about sex and murder and friendship and the gig economy. As sex writer and pop culture critic Ella Dawson said, it's the perfect book for your queer group chat that jokes a little too often about eating the rich.
Could you share one detail from your current release with readers that they might not find in the book? 
Base Notes grew out of a short story, "The Dirty American." It was written for an anthology themed around the color orange, and proceeds from the sale benefitted the Clarion Workshop, a program that gave me a huge boost in my writing journey. The story was later reprinted in Nightmare.
Are there any particular authors that have influenced how you write?  
Ellen Kushner, Holly Black, John Le Carré. Donna Tartt, Dorothy Sayers, Patricia Highsmith. Angela Carter's Bloody Chamber. DJ Taylor's Bright Young People. Siegfried Sassoon's memoirs, Cecil Beaton's diaries. Nalo Hopkinson's "Shift." James C. Christensen's Voyage of the Basset. Virginia Hamilton's Her Stories. I'm just throwing everything at this that jumps out at me when I think, "What made me want to write? What made me realize something about writing? What couldn't I put down? What did I borrow and steal from, for my own stories?"
Do you have a secret talent readers would be surprised by?
In college I made pretty good money as a street performer, dancing with, eating, and occasionally breathing fire. I also used to be a belly dancer (for fun, and for a while as a side hustle in a hookah bar). These actually might not be so surprising, given I've written a couple of novels about cabaret and stage performance. So maybe my surprising talent is actually that I'm a decent gardener, love getting my hands dirty, and am currently a permitted NYC Parks Super Steward.
Your favorite go-to drink or food when the world goes crazy!  
Popcorn. Love popcorn. With smoked paprika, cayenne, parmesan, and nutritional yeast. Or with black truffle butter and citric salt. Or with seaweed. Or with marmite. Or…you get the picture.
And what is your writing Kryptonite?
Chatting with friends on Slack. Usually about the thing I'm supposed to be writing. But sometimes about memes and stupid jokes instead, or the day's Twitter drama. Or about nothing at all! I'm a social creature and the isolation of writing can sometimes drive me a little bonkers.
ABOUT THE AUTHOR:
Lara Elena Donnelly is the author of the Nebula, Lambda, and Locus-nominated trilogy, The Amberlough Dossier, as well as short fiction and poetry appearing in venues including Strange Horizons, Escape Pod, Nightmare, and Uncanny.
She has taught in the MFA program at Sarah Lawrence College, as well as the Catapult classes in New York and the Alpha SF/F/H Workshop for Young Writers.
In the summer, she wears The Cobra & the Canary. In the winter, Nudiflorum. And some others in between, to keep things interesting. As of this writing, she lives on the grounds of the old Hamilton Estate, with a screenwriter and a small mask-and-mantle tabby pretentiously named after a bitter Italian aperitif.
Social media links
Website: https://laradonnelly.com/
Instagram: @larazontally
Facebook: @laraelenadonnelly
Twitter: @larazontally 
Goodreads: https://www.goodreads.com/author/show/7867639.Lara_Elena_Donnelly 
HERE'S A LOOK AT BASE NOTES: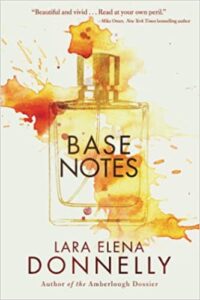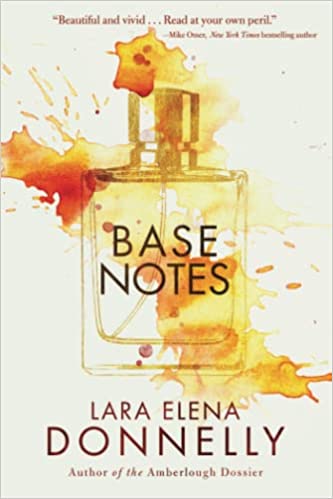 A lasting impression is worth killing for.
In New York City everybody needs a side hustle, and perfumer Vic Fowler has developed a delicate art that has proved to be very lucrative: creating bespoke scents that evoke immersive memories―memories that, for Vic's clients, are worth killing for. But the city is expensive, and these days even artisanal murder doesn't pay the bills. When Joseph Eisner, a former client with deep pockets, offers Vic an opportunity to expand the enterprise, the money is too good to turn down. But the job is too intricate―and too dangerous―to attempt alone.
Manipulating fellow struggling artists into acting as accomplices is easy. Like Vic, they too are on the verge of burnout and bankruptcy. But as relationships become more complicated, Vic's careful plans start to unravel. Hounded by guilt and a tenacious private investigator, Vic grows increasingly desperate to complete Eisner's commission. Is there anyone―friends, lovers, co-conspirators―that Vic won't sacrifice for art?
PURCHASE LINKS: