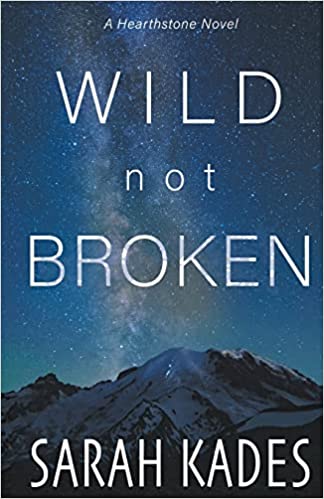 Wild Not Broken By Sarah Kades
A gripping mystery romance novel!
Canadian author Sarah Kades is an archeologist and an Indigenous Knowledge facilitator and has gained recognition by the Calgary Arts Development and the British Society of Criminology. Her books to date – CLAIMING LOVE, DUKE OUT AT THE DINER, and her series HEARTHSTONE, of which WILD NOT BROKEN is Book 2. She also writes narrative nonfiction books under the penname Sarah Graham
Capturing the reader's eye and mind with an opening page is an art Sarah owns. "On the charge of high treason, the defendant is found to be not guilty" Lillian Kensington, former war correspondent and courier for MI6, stood in the dock in the center of court number one. Tears of relief stung the back of her eyes and her knees threatened to buckle. She fought both. Hers wasn't the first to be tried for high treason in the court of Old Bailey, London's Central Criminal Court. However, there were too many former media colleague, law enforcement personnel and politicians who had gunned to see her burn for crimes she had not committed, Lillian would neither cry, nor faint in front of this bloodthirsty crowd…What had taken her years to earn – a reputation built on integrity, grit, talent and compassion – had been destroyed in one calculated blow by a terrorist. I t had also nearly gotten her killed'
Sarah provides a well-distilled outline of her plot: 'Lillian Morgan is a disgraced British war correspondent. Scotland Yard has cleared her of all treason charges, but her career didn't survive being duped by a double-agent. The rediscovery of a family heirloom, a New World fur trade journal from the eighteenth century, gives Lillian a story to chase while she tries to pick up the pieces of her life. Colt Tanner is a world champion bull rider, old enough to know his time on the circuit is coming to a close, but too skittish to settle down anywhere. He likes life one adrenaline high after another, never stopping long enough to feel anything. But a career-ending injury has left him with time to notice there are unanswered questions about his family that are starting to pile up. A week in the wilderness to write an eco-inn's marketing material is not Lillian's idea of professional glory, but her job prospects are limited. She needs a guide and Colt's schedule is now wide open. Sparks and bullets fly when these two stumble into deadly family secrets and international spies holding grudges. Will they find what they're looking for, or die trying? It's MI6 meets the Rocky Mountains…with heat.'
Written with bristling prose that magnetizes the reader and develops a credible, combustible plot, Sarah Kades is clearly an author to watch closely. Very highly recommended.