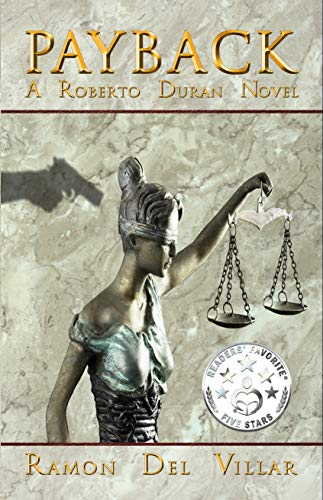 PAYBACK
Book One of the Roberto Duran Series
A drug cartel thriller at its best brought to you by legal expert, Ramon Del Villar
Roberto Duran, intrepid Houston attorney, is called in to help clear the name of a young Mexican socialite who is caught at Houston's Bush Intercontinental Airport with cocaine in the lining of his luggage. As the grandson of Don Jose, owner of Bancomer, he swears the drugs are not his. Don Jose believes him and hires Roberto Duran. Together with the help of private investigator Luis Gil, Roberto delves into the world of the Mexican cartels to find the evidence he needs to clear his client, but will Roberto survive and arrive in time to put his case on at court?
Amazon.com Link: Payback (Roberto Duran Series Book 1) – Kindle edition by Del Villar, Ramon, Shelton, Verstandt. Mystery, Thriller & Suspense Kindle eBooks @ Amazon.com.
Amazon.ca:  Payback: Del Villar, Ramon, Shelton, Verstandt: 9781944428013: Books – Amazon.ca
ABOUT THE AUTHOR:
Ramon del Villar is a lawyer, a black belt in karate, a teacher and the author of a legal thriller. But his day job is as chief interpreter for the United States Courts for Southern District of Texas.  His published works include a short story in Eclectically Criminal and a non-fiction text, Anatomy of a civil lawsuit.