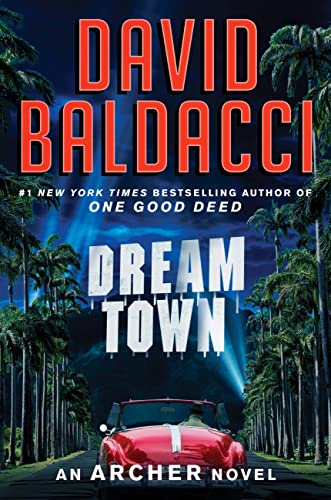 "Dream Town" by David Baldacci
Three years after the events of the last book, Archer is still working with Willie in Bay Town, but, is now a full-fledged PI.
Archer is down in LA to meet with Liberty Callahan, whose acting career is on the upswing, and, so it seems, is their unspoken love for each other.
At dinner, he and Liberty are unexpectedly joined by Liberty's friend, Ellie Lamb, a well respected script writer in Hollywood.
As the conversation turns to what each person does, Ellie is shocked and thrilled that Archer is a Private Investigator as she…..
Believes that someone is trying to kill her!
What she says makes Archer believe her, and later that night, it was New Years Eve after Liberty and Archer just ushered in 1953, Archer decides to visit Ellie at her house in Malibu.
Ellie is not home!
But the dead body that Archer trips over is….
WTF???!!!
What happens then….
"Dream Town" is a fast and furious look at the seedy side of Hollywood and some of the people who live (and die) there.
Archer is in danger the whole time and…..well…..to see if he solves the case, or lives, you can read the book. 
Another Baldacci masterpiece and the 3rd Archer book I've read in a row during this mini-marathon.
Great fun!
TraceyReaderDad Reviews