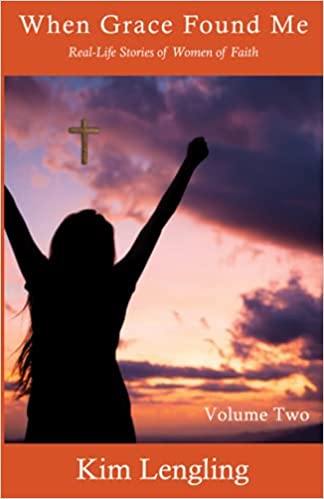 When Grace Found Me: Real-Life Stories of Women of Faith
Author Kim Lengling is a freelance writer and author who had a spiritual moment of awakening that urged her to write this trilogy WHEN GRACE FOUND ME, a source of continuing inspiration for women. This is Volume Two of this inspiring series.
Kim has collected stories from twenty women whose testimonies are an inspiration to read. In her Introduction she offers, 'There are times in life when you realize that you have something more you are to be working on or giving to the world. Yes, the world. Have you had those nudges?…Over the past five years, I have found myself feeling those nudges more and more. When I do, I follow His lead…I have been blessed by giving my time, resources, or simply offering a prayer. The blessings that I experience from following God's nudges are worth any bit of discomfort I may feel initially.' The collection of stories that follow share both Kim's own story with other women's moments of finding Grace.
The various stories are interspersed with scriptural passages from the Bible that reflect the tone of each of the women's stories, enhancing the experiences shared, and making them charismatic. Supportive, reassuring, enlightening, and satisfying, this second volume of the trilogy will likely encourage readers to follow the provided path to find Grace. Grady Harp