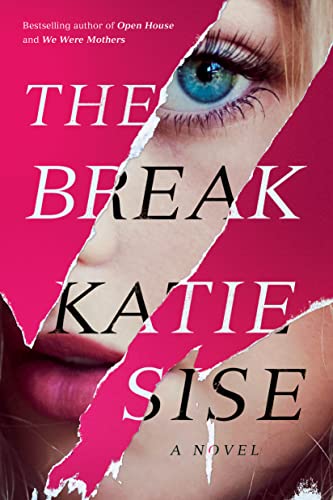 Can she trust the people she loves? Can she trust herself? A new mother is pushed to the edge in a provocative thriller by the Amazon Charts bestselling author of Open House.
After the traumatic birth of her daughter at a New York City hospital, Rowan O'Sullivan returns home to her apartment with her perfect newborn, Lila. At her side are her husband, Gabe, and June, a part-time babysitter hired to help Rowan in any way she can.
But in this time of joy, Rowan can't shake the feeling that something isn't right. She feels dread. She's breaking.
Rowan's growing instability leads her to accuse June of unspeakable things. And when June disappears just days later, Rowan becomes a suspect. The neighbors heard the screaming. But only Rowan knows what really happened. If her mind can be trusted. Since Lila's birth, her memory has been both unreliable and frightening.
To uncover what happened to June and protect her new baby, Rowan must try to untangle the deep recesses of her mind and face the dark things she's so desperate to keep buried. When she does, no one is prepared for where the truth leads.
BUY LINKS 
B&N
AMAZON
INDIEBOUND
BOOKSHOP
ABOUT THE AUTHOR:
Sometimes Katie Sise is a bestselling author, TV host, and jewelry designer featured in major fashion magazines and television shows, but mostly she's a leggings-clad coffee-drinking mother of four.
After graduating from The University of Notre Dame, Katie moved to New York City and performed in plays and independent films you've never seen. (One night, when she was playing Gwendolyn in The Importance of Being Earnest, the show was canceled because no one was in the audience.) Katie supported herself by bartending, but after dropping an exorbitantly expensive bottle of champagne on the way to deliver it to Robert DeNiro's table, she decided she had to make money with something other than making drinks. Later that year she applied for a job in a fashion boutique in New York City's meatpacking district and stumbled into a career making jewelry. Lucky Magazine called her a "designer to watch" and Katie continued to fake it till she made it, with work featured in every major fashion magazine and worn by celebrities like Kate Winslet, Beyonce, Cameron Diaz, Anne Hathaway, Kelly Ripa, Drew Barrymore, and many others. Katie designed jewelry for national campaigns like Vera Wang, Gap, and Keds, and designed a one-off piece for Target.
Katie has a large-sized head perfect for television. She cohosted a TV show on the Home Shopping Network with millions of viewers, and appeared on programs like Good Morning America and the Oxygen Network's Bejewelled. When Katie was chatting with the ladies from The View, one of her necklaces broke on air and fell from her neck to her lap. (Things like that happen to her a lot.)
Jewelry and television work led to Katie writing Creative Girl, published by Perseus/Running Press, which was when she realized the thing, she most wanted to do in the world was write books. To learn the craft, she worked as a ghost writer writing NYT bestselling suspense books, and then was lucky enough to get a young adult fiction deal under her own name with HarperCollins Balzer + Bray. She has published three novels with HarperCollins: The Boyfriend App, The Pretty App, and The Academy.
When Katie moved an hour outside of New York City to Westchester County, she felt drawn to write about women her own age faced with unthinkable circumstances and decisions. This led to We Were Mothers, her debut adult novel, published with Amazon Publishing/Little A. We Were Mothers is a nationally bestselling novel about three seemingly perfect couples whose lives turn very dark over the course of one weekend. The New York Post hailed it as one of the best books of the week, PopSugar named it one of the best books of October, and Parade Magazine called it one of the ten spooky books you have to read this fall. We Were Mothers received rave reviews from Kirkus, Booklist, Library Journal, Bustle, and the Associated Press. From Kirkus Reviews: "Sise offers an astute glimpse into tragic loss, the innermost lives of women, and the highs and lows and societal expectations of motherhood…this compelling character study will resonate."
On December 1st, 2020, Amazon Publishing/Little A published Katie's second novel for adults, Open House, a suspenseful story about an art student who walked into the woods and was never seen again. The mystery of her disappearance still haunts her bucolic university town and her broken family, especially her sister, Haley, whose need for closure has become an obsession. Open House has received terrific reviews from Kirkos, Publishers Weekly, and Booklist. It was selected as one of Good Morning, America's books of the month. E! online and PureWow listed Open House on their December reading lists, and the book became an Amazon Charts Bestseller in the Most Read category. From Kirkus Reviews: "Part murder mystery, part interpersonal drama, a serviceable who-done-it (or did anyone?) with a host of compelling characters…this novel has just enough twists to keep its readers along for the ride. Sleuths will delight in piecing together clues and untangling lies alongside the protagonists."
In November 2022, Amazon Publishing/Little A will publish Katie's next novel, The Break, about a young woman named Rowan who is pushed to the edge after a traumatic birth. When Rowan returns home with her perfect newborn, Lila, she accuses her beautiful babysitter of things that can't possibly be true. When her sitter disappears days later, Rowan becomes a suspect.
If you have the chance to read her novels, Katie would love to hear what you think. Please email her at katiesise@gmail.com, or find her on Facebook, Twitter, and Instagram.
AUTHOR WEBSITE: https://www.katiesise.com/blog