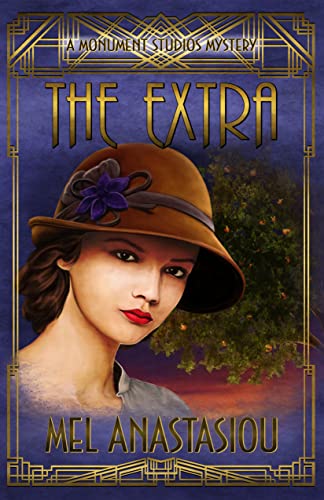 The Extra: A Monument Studios Mystery By Mel Anastasiou
 A dazzling new female mystery sleuth – Frankie Ray – opens a new thriller series!
Canadian/British author Mel Anastasiou maintains homes in both British Columbia and in England and serves as contributing and developmental editor for Pulp Literature. Her mystery novels are in series – The Fairmount Manor Mysteries, The Hertfordshire Pub Mysteries, and now The Monument Studios Series, of which THE EXTRA is Book One.
Absolutely capturing the flavor and ambience of Hollywood in the 1930s, the author opens her story in 1934 in Paradise Gardens Villas on Sunset Boulevard in Hollywood in a significant moment that drives the adventure: 'Sunlight through the bungalow window highlighted the needle-thin black lines crisscrossing the dead man's hands. The young woman dampened a tea cloth at the sink and carried it to the sofa to clean her lover's lifeless hands and face. She took up one grimy hand and then the other, and scrubbed them with her damp cloth. There were so many tiny creases in a person's skin where soil could collect. When she was satisfied, she set his left hand across his lap and his right hand palm down at this side…Where the lapel of his jacket had slipped back, she could see the bullet hole. She made a little clicking sound and pulled the jacket straight…."Good night, sweet prince." A show-business farewell. He would have liked that.' With that remarkably fine writing style, this novel ascends! The plot as been condensed as follows: 'Vancouver schoolmarm Frankie Ray runs away to Silver Screen Hollywood to test her conviction that an actress who lacks glamour but has talent and an enterprising attitude can make it in the movies. But when a dissolute, womanizing matinee idol turns up dead on her sofa, Frankie's career hopes shatter. She'll need all her acting chops to sleuth out the murderer and clear her name.'
The conjugal blend of mystery and Hollywood atmosphere works on every level, and with this new series Mel adds yet another inimitable female sleuth to her repertoire. After thoroughly enjoying this excellent novel, the appetite is fully whetted for the next installment. Very highly recommended.