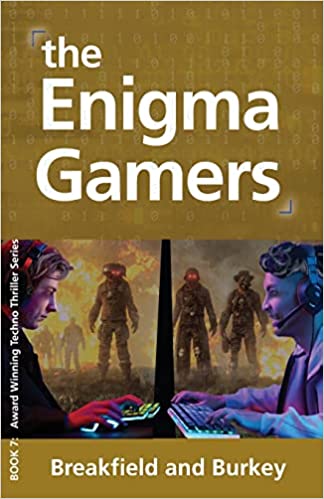 The Enigma Gamers By Charles Breakfield and Rox Burkey
Cyber attack technology and video game realism – Say it isn't so???? 
The Enigma Series uses the 7th book, The Enigma Gamers, to expand the series with a grittier, feet-on-the-street, diverse group of men and women carefully selected by Julie and Juan to work on special assignments all over the world. The challenges they face in these assignments are potentially more far reaching that they ever imagined. Gone are the days of pixelated sprites and simple wired controllers. It's the twenty-first century, and video game playing has undergone a complete evolution. With high-def graphics and intuitive sensory controls, gamers are enjoying a level of realism and immersion never before experienced. However, when the line between the real and cyber worlds becomes blurred, this digital landscape provides new social predators with opportunities to unleash terror and pain on unsuspecting victims. Businesses, cities, and commonly used services might believe they are immune, but then their world goes sideways as a grotesque ransomware demand is spilled across their data screen. Led by Julie and Juan, the fledgling CATS-Cyber Assassins Technology Services team is committed to avenging and administering justice to evil doers in every corner of the real and virtual worlds. The CATS team is the next generation of hunters in the cat and mouse game of cyber warfare. Within the Enigma series, the CATS team will continue to evolve and uses front-line techniques, which stretches every resource at their disposal to face off against a sinister new world of high-tech crimes.
Amazon.com: The Enigma Gamers – A CATS Tale: 9781946858337: Breakfield, Charles V, Burkey, Roxanne E: Books
Amazon.com: The Enigma Gamers – A CATS Tale: 9781946858160: Breakfield, Charles V, Burkey, Roxanne E: Books
ABOUT THE AUTHORS:
Charles Breakfield is a technology expert in security, networking, voice, and anything digital. He enjoys writing, studying World War II history, travel, and cultural exchanges. Charles is a fan of wine tastings, winemaking, Harley riding, cooking extravaganzas, and woodworking.
Rox Burkey is a technology professional who excels at optimizing technology and business investments. She works with customers all over the world focusing on optimized customer experiences. Rox writes white papers and documentation, but found she has a marked preference for writing fiction.
Together these Texas authors create award-winning stories that resonate with males and females, as well as young and experienced adults. They bring a fresh new view to technology possibilities today in exciting stories. Visit their website for more information and free stuff. Https://www.EnigmaSeries.com