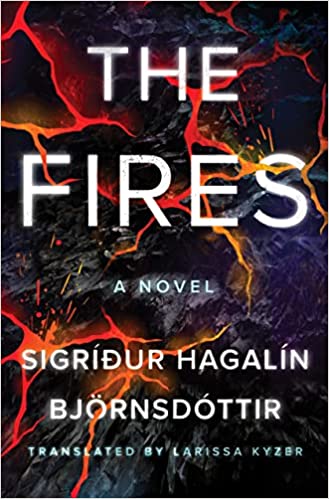 THE FIRES by Sigríður Hagalín Björnsdóttir
From Icelandic author Sigríður Hagalín Björnsdóttir comes a heart-wrenching thriller about a woman's desperate quest to save the people she loves from a natural disaster.
After an eight-hundred-year slumber, the volcanoes in Iceland's most populated region are
showing signs of life. Earthquakes dominate the headlines. Echoes of the devastating eruptions in the past stir unease in the people.
Volcanologist Anna Arnardóttir has spent her entire life studying the volcanic powers under the earth's crust, but even she cannot fathom the catastrophe at hand.
As a series of eruptions threaten most of Iceland's population, she's caught off her rational
guard by the most terrible natural disaster of all—love. The world as she knows it is about to fall apart, and so is her heart.
Caught between the safety of a nation and her feelings for her children, her lover, and her past, Anna embarks on a dangerous journey to save the lives of the people she loves—and her soul.
Barnes and Noble
Amazon
Indie Bound
Bookshop
ABOUT THE AUTHOR:
Sigríður Hagalín Björnsdóttir is a reporter at Rikisútvarp. She published her first novel,  Eyland, in 2016. There she tackled questions about what it means to belong to a family and to be an Icelander, what unites us and what divides us. The book attracted a lot of attention and the publishing rights are sold to over 10 countries. Sigríður was nominated for the Fjoru Prize. You just say: Wow! said  Kolbrún Bergþórsdóttir in Kiljunn, but Kiljunn's critics agreed that Eyland was a particularly successful debut, exciting, interesting and well written. Her second novel, The Holy Word, was published in November 2018.
Facebook: https://www.facebook.com/sigga.hagalin/
Instagram: https://instagram.com/sigga.hagalin?igshid=YmMyMTA2M2Y=