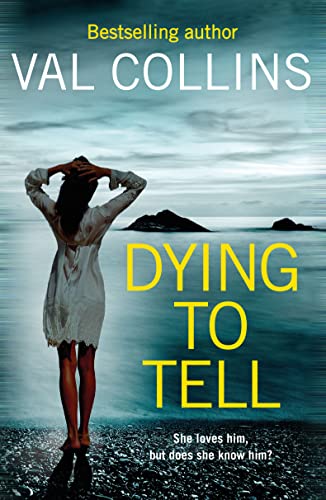 Dying To Tell By Val Collins
Part-time journalist Aoife Walsh is about to tie the knot with her long-term boyfriend, Detective Conor Moloney. However, after barely surviving the trauma of her first marriage, and still having to deal with her challenging ex-husband, Aoife is less than excited about the prospect of organising a wedding.
Her wedding anxiety quickly takes a back seat when the missing person case she is researching turns into a murder investigation.
A year earlier, IT specialist Matt Gallagher disappeared on his honeymoon abroad, seemingly without explanation. Now, after his bride learns of a huge inheritance Matt had been expecting, Aoife finds herself uncovering a trail of clues that lead her from the rain-soaked cobblestones of Dublin to the sun-baked streets of southern Italy.
But what Aoife hadn't expected was that her own personal life would get mixed up in the murder investigation – or that her search for the truth puts herself and her loved ones directly in the crosshairs of a deadly killer.
Val Collins books are unique and the stories are interesting because they don't appear to be about serious issues, hardly even crimes, until Aoife starts to asking questions. As the facts are revealed the issues become more and more complicated and there are a lot of twists which add to the complexity and interest of the stories" _ RAButts, Reviewer with Book Sirens
"The ending will keep you on the edge of your seat. Stunning ending. If you like page-turner mysteries in a well-thought-out thriller, read this book" _ Lindareads
ABOUT THE AUTHOR:
Val Collins is the author of the award-winning psychological thriller GIRL TARGETED and the international bestsellers ONLY LIES REMAIN, THE SILENT SPEAK and WHERE LOYALTIES LIE (March 2022). The newest book in the series is Dying To Tell featuring heroine Aoife Walsh. They are all standalone thrillers and can be read in any order.
A native of Ireland, Val began reading at the age of three and still devours books at the rate of one per week. Her favorite authors range from Philippa Gregory and Sophie Kinsella to Lee Child and Linwood Barclay.
Join Val online at valcollinsbooks.com, and on social media @valcollinsbooks.