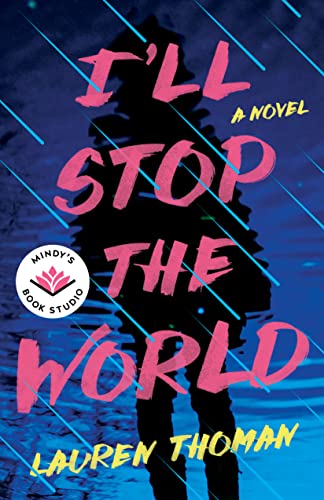 I'LL STOP THE WORLD by Lauren Thoman
The end and the beginning become one in a heart-pounding coming-of-age mystery about the power of friendship, fate, and inexplicable second chances.
Is it the right place at the wrong time? Or the wrong place at the right time?
Trapped in a dead-end town, Justin Warren has had his life defined by the suspicious deaths of his grandparents. The unsolved crime happened long before Justin was born, but the ripple effects are still felt after thirty-eight years. Justin always knew he wouldn't have much of a future. He just never imagined that his life might take him backward.
In a cosmic twist of fate, Justin's choices send him crashing into the path of determined optimist Rose Yin. Justin and Rose live in the same town and attend the same school, but have never met―because Rose lives in 1985. Justin won't be born for another twenty years. And his grandparents are still alive―for now.
In a series of events that reverberate through multiple lifetimes, Justin and Rose have a week to get Justin unstuck in time and put each of them in control of their futures―by solving a murder that hasn't even happened yet.
BUY LINKS 
B&N: https://www.barnesandnoble.com/w/ill-stop-the-world-lauren-thoman/1141590423
ABOUT THE AUTHOR:
Lauren Thoman lives outside of Nashville, Tennessee, with her husband, two children, and a rotating number of dogs and fish. Her pop culture writing has appeared in numerous online outlets including Parade and Vulture. I'll Stop the World is her first novel.
AUTHOR WEBSITE: https://www.laurenthomanwrites.com/
AUTHOR SOCIALS
Facebook: https://www.facebook.com/LaurenThomanWriter/
Instagram: https://instagram.com/laurenthomanwrites?igshid=YmMyMTA2M2Y=
Twitter: https://twitter.com/kazzese