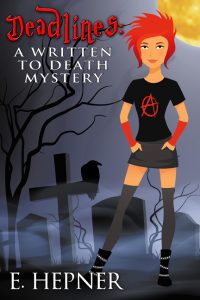 Deadlines: AWritten to Death Mystery by E. Hepner
Ainsley Moss never thought she'd become a representative for the dead. But as a newbie obituary writer for the Aurora Fall's Guardian, she gets a sneak peek at her new profession. Her ex-best friend and rival newspaper worker turns up blue and stiff as a board in the women's bathroom—after they've had a less than civil confrontation.
Ainsley's in the habit of memorializing the dead, not finding them. But now she's saddled with a motive for murder—killing to drum up obituaries in order to further her career in a dying newspaper business where everything is going digital.
When another victim meets his maker with a connection to the first victim, Ainsley has to make nice with a hard ass, bombshell Detective who's dead set on closing the case or risk the calm of their cozy town. Ainsley's charming, ex-boyfriend turned roommate Gage Sullivan comes to her aid as they throw themselves into deadly research. Every obituary interview brings them that much closer to finding a killer connection. While fighting her new rep as a prime suspect, her matchmaking, Stepford mother is intent on keeping her daughter's dirty laundry under wraps and her sex addicted wealthy grandparents want to buy her way out of jail. Or at least help her learn how to make a shiv.
None too thrilled with the idea of making friends with a cell mate named Betty the Bruiser, she'll wade knee deep into a cesspool of the town's secrets, gossip, and lies. But with a whacky cast of characters hell bent on keeping the peace, no bit of personal information is sacred. They have to find a killer—before Ainsley loses her freedom and her chance to make peace with a fate that scares her more than anything else in life.
Excerpt 1:
"Excuse me, Miss?"
My head swiveled to the right and the left—no one. I looked up into the industrial lofts circling around and up the perimeter of the building, where all the important people in the newspaper business kept their hours. A stranger stuck his head out over the balcony. I couldn't get a good glimpse with my head at a whackado angle and all the blood rushed into my temples.
I quickly stood up, fighting off the dizzy spell, and the pinch of my heels. I clamored up the winding, wooden circular stairs into the lofts and toward an epically tall man with razor sharp cheekbones that could make women riot in the streets. His light green gaze narrowed and he cleared his throat. His bleached blond hair was curly at the ends with black roots, and he wore a suit that was more vintage 1920's than anything I'd seen in my coastal college town—and yet it fit him to utter perfection. A gorgeous, trim swimmer's body beneath his light cream dress shirt and…this couldn't be going anywhere good.
If this was my new boss—well, I wasn't going to finish my thought.
His brow's raised in expectation. Maybe my day was less gloom and more va-va-voom. He offered me a smile which shifted heat down to the bottom of my curled toes.
"Yes?" I slung my black studded messenger bag over my shoulder with a thump and the bag hitting against my hip made me wince. "Nice to meet you. I can't wait to get chatting, let me just get my resume out." I stuck my hand out waiting for his firm grip in mine. When he didn't extend his hand to take mine, I mentally brushed off the dust from my social skills, and dug in my bag for my resume. He kept walking down the hallway and I swallowed the lump in my throat.
I followed him down the creaky steel balustrade to his office. He paused at the entryway where I almost slammed into what I imagined was a firm backside. The seconds ticked by while I was busy fumbling through several notebooks, open packages of orange Tic-Tacs, and wadded up pieces of paper. Until I sidled past him and maneuvered into the generic wooden chair facing the typical name plated desk of my future boss. Streamers of spring light dappled across the dust mote-strewn room and I looked back down at the bag in my lap.
"Here we are," I practically shoved the crisp paper into his chest. He hovered above me and I dumped my bag to the side of the chair. "Hit me with anything, I can take it."
My confidence was likely to take the blow as I folded my hands in my lap, crossed my ankles, and pasted on the fake smile of interviewees everywhere. Not the best start to new and improved Ainsley—but at least I'd woken up this morning, there was that. I watched him as a curled lock of his platinum hair fell against his forehead, released from its prison of hair gel, while he scanned my resume. One side of his mouth curled upward. Was his smile because of the work experience at the University bookstore or my creative use of effulgent? Sure the ink was slightly smudged from the typewriter, but damn it, laptops melt in dorm room fires. Not as though mine was impervious.
"I can type as fast as you need me to and I'm an advanced master in spellcheck. The little squiggles don't know what they're in for and I know my master's degree is in library science but I'm a really good reporter, I've seen the movie Newsies, like eight bazillion times and who doesn't know about dead people? I'll do them justice—"
"While I'll take that all into consideration, Miss Moss, um, I don't work here. I'd actually called your name because your mother had mentioned to me that she wanted to get you out of the house and…you don't recognize me, do you?"
"N—no."
Mortification didn't directly lead into recognition, so that would be a negative. I squinted at him hoping maybe it would bring everything into focus. Meanwhile I tried to ignore the blush creeping up beneath my cheeks to singe upward along my cropped hairline. His lips pursed while he shuffled from one foot to the other and shoved a hand in his pocket.
"You're not my new boss?" I lamely put out into the universe, twisting my fingers in my lap.
"Not so much. Only a perspective roommate. I met your mother at the Shop and Hop this morning picking out a new box of Wheaties. Because you and I dated in eighth grade and things didn't work out, your mother is convinced I'm gay, which leaves me as prime pickins when I've got space to rent in my renovated Victorian." He seemed to smile at a memory, laughing to himself. "I don't know what you did to that woman, but she's more than ready to get rid of you."
There was a beat when I considered any number of sins I could have committed in my mother's eyes. The list was long and probably in alphabetical order. And while I was still under her roof, a lot of what she thought of me still mattered a whole hell of a lot.
"Aw, blast, where the hell are my manners today?" He ran a large hand through his hair and eased it along the top of his head, as if he were looking for something up there. Maybe a hat? Sure matched the southern charm oozing from every pore. "Gage Sullivan, possible landlord, and former dumpee. I'm here to interview with Mr. Spencer for an advertising slot in the paper for my home business."
He held out my little resume. A flash-bang of sudden memory made me lick my lips. We'd dated for two weeks in junior high and I'd dumped him for a fictional character—a one Mr. Fitzwilliam Darcy, because, and I quote "he knew how to treat a girl". And Gage had been too busy running track, riding four-wheelers, and sleeping in on the weekends to amuse me.
Yeah, no idea what I'd meant with that one-liner either. But not having an explanation for my teenage mistake didn't keep the old memory from searing my brain as I wrapped my mind around the pseudo-stranger's proposition to move in with him.
"You'll probably need your resume again. I just wanted to make you aware of the situation, with the house. Your mom seemed pretty dead set. I'll be on my best behavior as a landlord, cross my heart and hope to die." He winked and my thighs tightened together as my body went taut with uncomfortable awareness. I snatched my resume back from his outstretched fingers—piano player's fingers.
"She's pretty persistent…about everything," I muttered holding my violated resume to my chest and wondering whether to stumble out or sit there waiting for my actual boss. "You know I don't have any money, right? Not exactly a great rental prospect without rent money."
"I'm not adverse to IOU's." His light green eyes lit up and he leaned back against the desk crossing his arms. "At least I'll know exactly where to go for collection services."
Footsteps sounded outside the door and my head twisted so fast toward the doorway I might as well have been possessed. My fingers curled in my lap, as if I was getting caught doing something I shouldn't, and someone was going to call me out on it. Whoever walked into the office next was probably my new boss. But my track record at this point was pretty shoddy.
"Ah, glad you two made it down here. I'm sorry for the delay, there was a pie fight in the diner and someone had to cover the story before it got all cleaned up. As you know, we're a little shorthanded around here lately."
The voice belongs to Paul Spencer, head of our small town newspaper. Or, that was who I thought he was given he took the seat behind the big oak desk with the super nifty swivel chair and the name plate "Paul Spencer". But, what did I know? I'd been wrong the first time.
"Is that your resume?" He pointed toward the paper still pressed against my breasts. "May I have it?"
I handed it to him without a word. The incredibly thin man scratched the top of his hair, which stuck out everywhere in a garish red hue I'd recently seen in the semi-permanent hair color aisle. It was so damn vibrant. Frankly, it made me a bit envious, as I absently pet my own shock-rock red highlighted black pixie cut. He straightened the bowtie at his throat, cracked his neck, and rubbed the stubble at his chin, which proved the vibrant shade of red was au natural. When he propped a Converse sneakered foot on the edge of his desk, I grew a little worried.
Did he plan on shooing out Gage or was this some kind of kinky, three-way interview on camera somewhere? Better to go with a flow, I guessed. He made a few low noises of approval. His hand fished in his khaki pocket until he came up with the dreaded red pen and circled what must have been ninety things—even if I didn't have many things to circle on my itty-bitty resume. Mercifully, he lowered his weapon a second later and locked eyes with me.
"Your Sylvia Moss's girl, aren't you?"
I nodded. All of my good interview answers wasted on the phony sitting beside me. Yes, those were my good interview answers.
E. Hepner is the cozy mystery pen name of erotica and erotic romance author Elise Hepner. She writes small town heroines with an alternative edge put in big time situations where death, hijinks, and overall shenanigans ensue on a daily basis. Also a little romance–which they may or may not be ready for, given the pile up of dead bodies.
Some of her favorite cozies are ones by Kate Carlisle, Ali Brandon, Janet Evanovich, and Gemma Halliday. When not thinking about corpses and trickery she's planted in front of the TV petting her demanding cat or looking up things on Google that she really doesn't want on her internet history.
You can find Ms. Hepner online at:
Blog
Facebook
Newsletter