The realism of John Steinbeck meets the thrill of John Grisham in this tale of love, sacrifice and betrayal all rolled up in the amazingly haunting author voice of K.S. Jones and we caught up with her this week to ask her some questions about her new novel.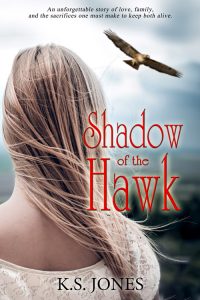 Reader's Entertainment:  Tell us the synopsis of your book.
BACK COVER BLURB:
It is May 1932 and life in the timbered rise and fall of Western Arkansas has just gotten harder for sixteen-year-old Sooze Williams. With debt mounting and both friends and family fleeing, Sooze is determined to 'do the right thing'. She promises her heart to a well-to-do man believing true love is just another loss along the way.
But when her uncle is murdered and family is accused of the crime, Sooze vows not to be beaten. Is salvation within her grasp by relying solely on truth, or is it in the security of her intended's money? Sooze must decide before it's too late. 
SHADOW OF THE HAWK — Synopsis
The Great Depression has smothered the nation, but frankly, in the small town of Coaldale, more important things are happening.
Sixteen-year-old Sooze lives on an Arkansas farm where her family can barely eke out a living. "We'll be alright," Daddy promises. "The shadow of the hawk ain't over us yet."
But when older brother Henry reveals his secret plan to ride the rails to Chicago with his friend Benny, Sooze realizes the burden of him leaving may be the last straw before their family farm goes under. With no solution in sight and sibling-bound to keep Henry's plan secret, Sooze promises her heart to a man she doesn't love hoping to save her family.
Before leaving, Henry's friend Benny fatally stabs a man settling a personal vendetta. Sooze witnesses the killing and is shocked when Henry is blamed. The only hope of freeing him is to hire a lawyer, but the family's money jar is empty. Desperate, Henry and Sooze decide she must find Cordie Beegle, a young man who just graduated from law college on stolen money.
With Cordie as counsel at Henry's trial, Sooze faces a skillful prosecutor determined to win a murder conviction. Being the only real witness, Sooze knows the burden of his innocence lies with her, so she holds strong on the witness stand fighting for Henry's freedom.
 Reader's Entertainment:  What do you feel is the most unique aspect of your story?
Shadow of the Hawk, although historical fiction, is more than just a story to me. The place known as Coaldale is nothing but a blip on an Arkansas map these days. It no is longer an actual 'town', but it is still a tiny community made up of a few homes, a church, and a cemetery. It is where my mother was born. It is also where she is buried. I grew up listening to her childhood stories which spurred my imagination and this tale. Years of research, including the use of family history, taught me about life in this Oklahoma/Arkansas border town during the Great Depression. I am fortunate to also have a few personal letters from townspeople who lived in the vicinity during the 1930s, each sharing their memories with me. So, although Shadow of the Hawk is purely fictional in every respect, I want Coaldale to live again–for at least one book. Fifteen years of research makes this novel as authentic and as accurate as you'll find anywhere.
  Reader's Entertainment:  Tell us about your main character(s).
Sooze is Caucasian and sixteen-years-old. Her birthday is May 19, 1932–the day our story begins. She is petite, but strong, and she's pretty with shoulder-length blond hair. She is a Depression-era farm girl.
Sooze is the eldest girl in the Williams family. Henry is the oldest child, then after Sooze is Cora, and most recently, baby Grace. Sooze loves to read, even though her family owns just three books: the Holy Bible, Little Women, and Treasure Island. It's Little Women that claims her reader's heart most of all. After Henry is arrested, Sooze wonders whether, like Jo March from Little Women, she should take on more of the "oldest child" duties which her brother Henry usually handled. She worries whether Daddy wishes she'd been born a good strong boy worthy of working a farm instead of a girl, so she always works her hardest hoping he will never regret her.
The richest boy in town, David Huckabee, is in love with Sooze. They have been boyfriend and girlfriend most all their lives. Although she cares for David, Sooze is not in love with him. After finding out that her brother, Henry, is secretly planning to skip out on the family and 'ride the rails to Chicago' with his friend Benny, Sooze decides the only way she can help her family survive is to marry David. True love seems to be a fairytale.
About her name—QUOTING FROM THE BOOK: Susanna was my God-given name, but folks never called me by it. Mama started calling me Sooze right off just as if something belonged to me. "Sue's picked a flower," or "Sue's got the chicken pox," or "Sue's got that same readin' book with her again." But Mama taught me that nothing ever really belongs to us except our beliefs, and she didn't want me misled by a possessive spelling, so instead of "S-u-e," Mama taught me to spell my name "S-o-o-z-e."
Reader's Entertainment:  What genre(s) is this and who do you think will enjoy reading it? (type of audience)
Fans of Historical Fiction first, secondly, YA readers.
There are fans of strong narrative novels, and fans of dialog-driven novels. I believe Shadow of the Hawk will capture both types of readers, however, true lovers of dialog will stay glued to the story fearing the incredibly believable characters will keep talking long after the book has closed.
  Reader's Entertainment:  Have you received any feedback on it yet, and if so, what was it?
QUOTES/COMMENTS:
"During the Great Depression, folks braved one hardship after another trying to hold on to their lives and those they loved. Shadow of the Hawk is the unforgettable story of sacrifice in the name of family, and in the search for true love." ~ W. Michael Gear and Kathleen O'Neal Gear, USA TODAY and NEW YORK TIMES bestselling authors of People of the Thunder.
"With a clarity reminiscent of Steinbeck's The Grapes of Wrath, K.S. Jones gently draws the reader into a masterful description of the grit and hard times of one family's struggles during the Great Depression." ~ Alethea Williams, author of orphan train novel Walls for the Wind.
  Reader's Entertainment:  Tell us something about yourself that most of your readers may not know.
Born and raised in California's San Joaquin Valley, I learned early that a good cotton crop would buy us our most prized possessions–shoes and books.
As each workday ended, my father would retreat to the 'bunkhouse' to write magazine stories and articles. Alongside him was my mother, a newspaper journalist. I was an avid reader from an early age, and following in my parent's footsteps seemed the natural thing to do. So when Tipton Elementary announced a school-wide essay contest—not divided by grade levels—I picked up my pencil and blank page and looked to my father for guidance. "Write what you know," he said. At my age, cotton-farming was king. This essay became my first writing award, being bested only by my older sister.
Throughout the years, I sought the life of a writer in every nook, cranny, and corner, but found only minor success. To help pay the bills while raising a family, I worked many jobs: telephone operator, telemarketer, airline reservationist, radio sales, receptionist, real estate agent, property manager, escrow officer, until one day I realized how fast time was carrying my writing dream away.
Determined to be a published novelist, I began setting my morning alarm at 4:00 A.M. and wrote like mad for 3+ hours, then showered, dressed, and rushed to work. It took another two years before I finished the novel I had been researching and writing for more than fifteen years: SHADOW OF THE HAWK. Pinned to my computer on those exhaustive days hung a snippet from a Sarah McLachlan song: 'I am so tired, but I can't sleep … Standin' on the edge of something much too deep.'
Then one day, word arrived saying that I had won the Southern Writers 2014 Short Story contest. While reveling in the confirmation, 'I am a good writer!' another email chimed in — a publisher was offering a contract on my novel. I think all writers wonder how they'll react when an offer arrives. For me, I planned to call/text/email/shout the news to everyone! But instead I sat staring at the two emails which arrived almost simultaneously … were they truly addressed to me? Much to my surprise, later in the week, two more publishing offers arrived for the same novel. What are the odds?
So long ago, my childhood dream while I sat perched high in an apricot tree reading The Grapes of Wrath, To Kill a Mockingbird, Call of the Wild, Lord of the Rings, The Time Machine, and so many more, was to be a writer … and I am so afraid to open my eyes.
  Reader's Entertainment:  What's next for you?
I have recently finished writing a middle-grade fantasy set in the Southwest, tentatively titled The Talisman. It is currently under publisher's review. I am also putting the finishing touches on another middle-grade fantasy which I hope to start marketing soon. After that comes the writing of a New Adult novel set in the beautiful Hill Country of Texas.
Reader's Entertainment:  Where can people interact with you and find out more about you and your books?
http://ksjones.com
http://karensjones.tumblr.com/
http://www.pinterest.com/ksjones/
https://www.facebook.com/Karen.S.Jones.Author?ref=hl
https://twitter.com/KSJones2011
http://www.linkedin.com/pub/karen-s-jones/42/597/417/
https://www.goodreads.com/KSJones
https://plus.google.com/u/0/+KarenJones-KSJonesAuthor/posts