Both Sides Now by Megan Slayer
A Cedarwood Novella
Can the geeky teacher moonlighting as a rock and roll metal god find the one man to see both sides and want it all with him?
Ever since Michael Jepsen walked into Cedarwood Elementary and spotted Niall Grayson, he's been hooked. He wants to explore every inch of the sexy third grade teacher in all sorts of hot ways. But Michael has a secret—during the summer months, he morphs into his alter ego, Bandit, and rocks stages all across the country. Can he keep his job at the school, while living the rock and roll lifestyle and snag the man of his dreams?
Niall Grayson never thought he'd catch Michael's eye. Becoming more than good friends never crossed his mind. He's not good at letting people into his private life and he prefers to keep his heart guarded, but something about Michael makes him want to open up. Will he be able to accept the different facets of Michael or will the relationship fail before it gets started?
EXCERPT:
"You're gay?" Niall's voice cracked.
"You're surprised?" Michael forced himself to smile. "I don't wear it on my sleeve, but I prefer cock to pussy."
"I'm shocked." Niall settled in his seat and let go of the wheel. "All the girls love you, and the moms all line up to see you during conferences. Every time I look over there when you're with parents, you seem to enjoy the female adulation." He turned the car off and lowered his gaze. "Sorry. That's rude. I assumed you were straight, and now I'm bashing you."
"You're not the first to assume and not the first to say what's on your mind." He debated what to say next. He needed to move with caution. "I'm gay and I'm attracted to you."
"And you want to go on a date with me." Niall finally looked at Michael. "I can't believe you're into me, but I'm all for it." He grinned, although the tips of his ears were red. "When? I'm free pretty much every day once the staff meetings are over tomorrow."
"How about Thursday night?" He'd prefer Friday night, but he was supposed to be leaving Friday midmorning.
"I'm free Friday. We could go then?"
"I'm busy on Friday." He wanted to tell Niall the truth, but he couldn't. No way he'd disclose his secret yet.
"Another guy?" Niall lowered his gaze again. "I should've known."
"It's not like that. I only date one person at a time." He eased his hand free from the carrier. "I've got a second job, and I need to be at that Friday night."
"Oh." Niall covered his face with his hands. "I'm so…sorry. I speak before I think, and it gets me into trouble." He glanced over at Michael. "What the hell? Why not?"
"You're unsure." Michael wanted to keep questioning Niall, but they were late in getting the food to the other staff members. "Clue me in after the meeting?"
"Don't have to wait that long." Niall opened his car door. "I'm crap at dating. I've only had one boyfriend, and we didn't really…date."
"All sex, all the time?" Not that so much sex with Niall didn't sound wonderful. He wanted to be the man tangled up with Niall between the sheets.
"With Kurt when it was good, it was great. When it was bad, it was over." Niall shrugged. "If you're willing to give me a chance and to take things slow, we've got a shot."
He grabbed Niall's hand and squeezed his friend's fingers. He needed to act on instinct and not fight his attraction to Niall. "Then let me give you a better perspective." He leaned across the console of the car and kissed his friend. Sparks shot through his body, and his lips tingled. He never should've waited this long to give in to his crush.
Niall moaned and opened to him, allowing Michael to suck on his tongue.
Niall grabbed the front of Michael's shirt. He broke the connection first and gasped for breath. "I like the new perspective."
"That doesn't have to be the only kiss." Michael rested his forehead against Niall's. "Come over tonight."
"After the meeting, I'm all yours." Niall let go of Michael, and when he climbed out of the car, he wobbled a bit. He wandered around the front of the vehicle and grabbed the bags from between Michael's knees.
Michael didn't bother to hide the smile. This was the start of something great, and he couldn't wait to get through the meeting. He wanted so much more of Niall Grayson and in every way possible.
Both Sides Now is available at:
Loose Id  
AllRomance Ebooks 
Amazon
About the Author: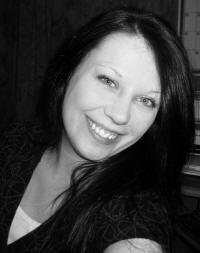 Welcome to my corner of the universe. I've always wanted to write. I love storytelling and weaving images with words. There's something magical about a happily-ever-after that draws me to a story. Be it spicy and suspense-filled or lusty hot and bothered, I'm game for a good book. I'm still learning and growing and I hope you'll join me. It's been a crazy ride, but it's totally worth it. You'll see.
I've always dreamt of writing the stories in my head. Tall, dark, and handsome heroes are my favorites, as long as he has an independent woman keeping him in line.  I love playing with words and letting the characters run wild.
NASCAR, Ohio farmland, dirt racing, animals and second chance romance  all feature prominently in my books.  I also write under the pen name of Megan Slayer. I'm published with Total-E-Bound, Changeling Press, Liquid Silver Books, Shara Azod Publishing, Turquoise Morning Press, Decadent Publishing and The Wild Rose Press. Come join me for this fantastic journey!  Megan's Website.