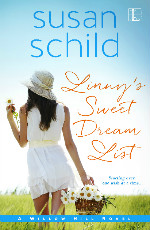 Linny's Sweet Dream List by Susan Schild
Thirty-eight year old Linny Taylor's charming new husband steals all her money. Linny is forced to move into a run-down home next door to her church lady mother, and re-build her life from scratch.
Veterinarian Jack Avery comes into her life, and seems like the real deal – but so did her thieving husband. Jack comes with baggage, too – an exquisite ex-wife who seems a little too chummy with him and a moody young son. Can Linny learn to trust love again, and is a happily ever after even possible at her age?
EXCERPT:
Linny has reluctantly agreed to go to a neighbor's potluck. She's wary of men after her late husband's shenanigans. She runs into Jack Avery at the supper, and is attracted to him but thinks he's married.
Jack rubbed his chin with his hand and smiled. "You've got me talking too much. How about you, Linny?"
When he said her name, it felt like a caress. She shivered, and tried to hide it by crossing her arms. "What do you want to know?" she asked lightly.
"I know you are helping your mama with a home improvement project and I know you
tore up some carpet, but…I'm assuming you are mostly supervising because"—his eyes flicked
over her earrings, and Hot-Cha-Cha nails—"for some reason, I can't picture you swinging a
hammer."
Once again, her eyes met his and locked for a beat too long. "I'm more of a crowbar girl these days, and I'm just getting started. But I'm not supervising at all, I'm the laborer."
"Good for you." He looked impressed. "Renovation skills come in handy."
She had a hunch he thought she was remodeling a darling cottage, not fixing up a decrepit trailer. No need to enlighten him. Linny twirled her wine glass as she described the paneling demolition, enjoying his throaty chuckle, and reminding herself that the man was married. She looked around him, half-hoping the wife would show up and extinguish this small fire she felt when she talked with him.
Glancing over his shoulder, his smile faltered. "Am I keeping you from something?"
"No, no." Linny liked him even more for his momentary lapse in confidence. She edged her chair away from his an inch or two.
He regarded her. "What do you do for work?"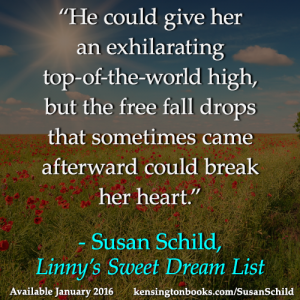 "I'm in Human Resources." She was getting good at this hedging.
He whistled. "Managing people is the hardest part of my job. Somebody's always mad at somebody, the back office thinks they work harder than the front office. Sheesh. Give me a sick animal any day."
"It can be hard," she admitted. "I'm trying to … figure out something else to do." She studied her sandals, wondering if he thought she sounded flaky.
But he just nodded. "You've got to like your work."
She smiled at him tremulously, relieved.
Clearing his throat, he said, "Jerry told me you'd lost your husband recently." His brow knit and he wore a look of deep concern. "I'm real sorry."
Linny felt a wave of irrational irritation at having to go through this conversation yet again. Curse you, Buck, she thought, gritting her teeth. She gave an airy wave. "It's fine. I'm getting through it just fine." Oh, my. She'd practically sounded delighted.
Jack raised a brow, and looked perplexed.
She stammered, "What I mean is…" Linny flushed, aware she looked like the merry widow, but too embarrassed to explain her story to a man she barely knew.
The vet uncrossed his legs and stretched. His voice was cool. "I need to head home, too.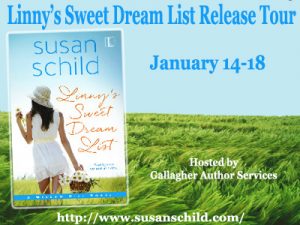 We farmers get up early."
You are invited to read the first chaper of Linny's Sweet Dream List. Just follow this link.
The book can be purchased at:
Amazon

About the Author: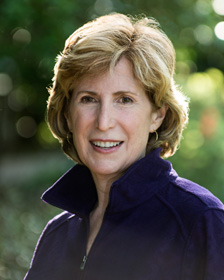 Susan Schild writes wholesome and sunny Southern fiction. Her novels feature charming men, missing money, fresh starts, women who have careers and adventures, sweet dogs, and finding true love at any age.
Susan is a wife, and a stepmother. She enjoys weekend getaways with friends, reading fiction, and rummaging through thrift store for treasures like four dollar cashmere sweaters and amateur watercolor paintings. Susan loves all dogs, especially Lab mix rescue dogs. She and her family live in North Carolina.
Susan is busy finishing up the second and third novels in the Willow Hill series, Sweet Carolina Morning and Sweet Southern Hearts. Both are scheduled for release in 2016.
You can read more about Susan Schild and her books on her website.