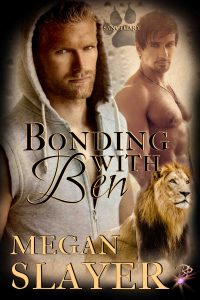 Sometimes the biggest hurdle in life is accepting who you are and what you want.​
Joe Dallas thought he'd escaped the draw of the shifters at the Sanctuary. He doesn't mind. With his tendency to keep relationships simple, he doesn't want to get involved with a lion shifter. Then there's Ben. The quiet shifter piques Joe's attention. When Joe accompanies Ben on a rescue mission, he realizes the attraction isn't one-sided. But can a shifter and a human really make a relationship work? Joe isn't sure.
Ben knows who he wants in his life and bed—Joe. The lion wants to bond with the human he desires. The difference in their species doesn't bother him a bit. Will the shifter be able to convince Joe they have a future or will fear dominate and destroy the love before it can blossom?
Warning: Once you're in the sight of this shifter, you may be the "mane" attraction. This lion doesn't give up until he has his prey.
EXCERPT:
What was it about Ben that kept Joe thinking about him? He closed his eyes and stood under the searing-hot spray. With other guys, Joe did the casual thing. Have a good time but no strings, so no one got hurt. Until now, that plan had worked. Right?
Kind of. Sure, he had nothing holding him down, but when he looked at John and Markas together, jealousy hit. He wanted that kind of devotion. Would he get it with Ben?
Ben was certainly different. He was innocent and deserved someone worthy of him. Joe wasn't worthy of too much of anything. He'd had a little too much fun and broken a few too many hearts along the way. Ben needed true devotion and a good match.
Joe snorted. He was great as a reporter and nosy as hell, but he sucked at relationships. Ben deserved a partner, not a player.
Still, he liked Ben. He worried about the shifter and wanted him to be happy. Could Joe make Ben happy? Doubtful.
Joe opened his eyes and washed the cum from his body. He'd be a friend and help Ben find a suitable partner. No romantic entanglements—just friendship—even if it damn near killed him not to be the man in Ben's arms and bed.
This was one situation he couldn't screw up.​
You can purchase Bonding With Ben at:
All Romance eBooks
Resplendence Publishing
About the Author: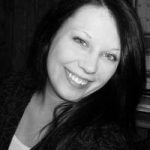 I've always dreamt of writing the stories in my head. Tall, dark, and handsome heroes are my favorites, as long as he has an independent woman keeping him in line. I love playing with words and letting the characters run wild.
NASCAR, Ohio farmland, dirt racing, animals and second chance romance all feature prominently in my books. I also write under the pen name of Megan Slayer. I'm published with Total-E-Bound, Changeling Press, Liquid Silver Books, Turquoise Morning Press, Decadent Publishing and The Wild Rose Press. Come join me for this fantastic journey!
Learn more about Wendi at her website.