There are a few things that are obvious when you have a conversation with Christian Fiction author, Unoma Nwankwor: she is very passionate about writing fiction that glorifies God, celebrates her faith and true romance. In fact, her stories are described as a fusion of faith, romance and African spice! Born in Akron, Ohio to Nigerian parents, Unoma Nwankwor spent her childhood and early adulthood years in Port-Harcourt, Nigeria. Her publishing credits include An Unexpected Blessing (2013), The Christmas Ultimatum (2013), When You Let Go (May, 2014), A Scoop of Love (Jan, 2015) and Anchored By Love (Dec 2015). We sat down to discuss her latest novel, He Changed My Name: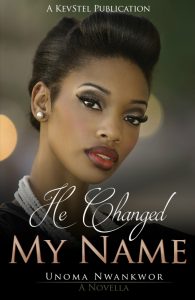 Book Blurb:
Sometimes broken roads lead to the best destinations
Eager to escape the hypocrisy of the church and build her singing career, pop sensation, Ayanti "Yanni" Effiong enters and wins The Next World Star. Apart from fulfilling her dream, her move to America offers the perfect opportunity to help young female immigrants. A cause she pursues with a passion until fame takes over. Fifteen years later, broke, dumped and fresh out of jail, she begins to regret the lifestyle and name she created for herself.
Mensah Afortey is on the brink of losing the church he put his heart and soul into for the past seven years. This years' Valentine Day gala is his last attempt to raise money for the church. Everything is set but they need a big name to pull in donations. Just as he is about to give up, in walks "Yanni." When he agreed for Ayanti to serve community service under his church he didn't know she was the same person as the embattled star.
While she pays her debt to society, the last thing she wants to do is perform on a day that left a bitter taste in her mouth. But there is no denying the instant attraction between them. Before he wins her heart, Mensah must win her soul. Over time and in fellowship with the church, Ayanti comes to realize that despite what man calls her, God has the ability to change her name.
Click on the book cover image above for details on Unoma's the upcoming show!
Connect with Unoma Nwankwor on Social Media:
www.unomanwankwor.com