Don't miss Christian Romance author, Parker J Cole on Thursday, June 16th at 6pm EST! The author of Dark Cherub and the Sins of the Flesh series, joins me to chat about her latest novel in that series, the "edgy" Christian Romance, Vengeful Vows.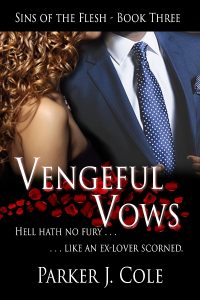 Book Blurb:
Daffodil Simmons knows how the world works. She's the spider, all the world is a fly. She has spent her life spinning webs, using people for personal gain. And now, she's about to spin her biggest one yet – for vengeance. She'll do whatever it takes to get revenge on the two men who abandoned her: her father, and her former lover. When she blackmails her half-sister Leah Westwood's ex-lover to do her bidding, she tightens her fist around his will and brings him into submission to her plans.
Vincent Miller hates that Daffodil has a noose around his neck, forcing him to do whatever she wants. But he'll do anything to steal Leah back from Jacob Westwood, the man who destroyed his life, even if it means making a deal with a blue-eyed spider. Yet as Daffodil spins her web, he finds himself entrapped by a silk of a very different kind and intrigued by a woman who only sees him as expendable prey
Everything is going according to plan until another spider, a ghost from Daffodil's past, begins to interfere with their web. It's a battle of wits against a powerful foe. When it comes time to make the ultimate choice, can Daffodil lay aside everything she's ever known… for something even greater? Can Vincent set aside his need for revenge to go after what's in front of him?
Click on the book cover image for details on Parker J. Cole's upcoming interview!