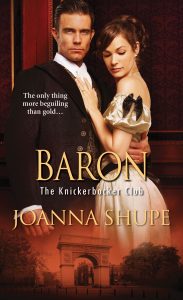 Baron (The Knickerbocker Club) by Joanna Shupe
New York City's Gilded Age shines as bright as the power-wielding men of the Knickerbocker Club. And one pragmatic industrialist is about to learn that a man may make his own destiny, but love is a matter of fortune . . .
Born into one of New York's most respected families, William Sloane is a railroad baron who has all the right friends in all the right places. But no matter how much success he achieves, he always wants more. Having secured his place atop the city's highest echelons of society, he's now setting his sights on a political run. Nothing can distract him from his next pursuit—except, perhaps, the enchanting con artist he never saw coming . . .
Ava Jones has eked out a living the only way she knows how. As "Madame Zolikoff," she hoodwinks gullible audiences into believing she can communicate with the spirit world. But her carefully crafted persona is nearly destroyed when Will Sloane walks into her life—and lays bare her latest scheme. The charlatan is certain she can seduce the handsome millionaire into keeping her secret and using her skills for his campaign—unless he's the one who's already put a spell on her . . .
EXCERPT:
CHAPTER ONE
There's an honest graft, and I'm an example of how it works. I might sum up the whole thing by sayin': "I seen my opportunities and I took 'em."
— George Washington Plunkitt, Gilded Age New York State Senator, member of the Tammany Hall political machine
Atlantic Theater, New York City
May, 1888
William Sloane did not believe in the ability to commune with the spirit world. Hell, he didn't even believe there was a spirit world.
Yet here he sat, inside a ramshackle theater in the Tenderloin district, watching this audacious spectacle. Madam Zolikoff, she called herself. The mystifying medium who could commune with spirits and perform extraordinary feats. The woman was the worst actress he'd ever seen—and Will had seen plenty.
Eyes closed, she swayed and waved her hands, all while chanting. The man across from her, one she'd pulled up on stage, stared, enthralled, as Madam attempted to speak to his dead mother. The electric lights overhead flickered, and the audience tittered.
"Ah! I think we are close!" she announced loudly in an appalling Russian accent.
Will nearly rolled his eyes. Was anyone really buying this charade?
Shifting in his uncomfortable seat, he took in the meager audience. About twenty men and women, all average-looking, a far cry from the extravagant crowd he usually associated with. No diamond tiaras or ostrich feathers here, just derby hats and plain bonnets. But every pair of eyes was trained on the young woman working the stage.
She was attractive, he supposed, if one preferred liars and cheats, which he most definitely did not. Still, her pale blonde hair showed off her striking brown eyes. Straight, delicate nose. High cheekbones. Arching brows. Full lips painted a scandalous red.
He liked those lips. Quite a lot, in fact. If he were dead, those lips alone might bring him back.
"I hear her!" A steady rapping reverberated around the room. An accomplice, no doubt, yet the audience gasped.
"Mr. Fox, your mother is here with us now. What would you like to ask her?"
The man on stage asked simple questions for the next fifteen minutes, with Madam Zolikoff "interpreting" the dead mother's answers. Will absently rubbed his stomach, anger burning over this performance, that she would take advantage of someone's grief in such a profoundly fraudulent way. When Will's own mother had died, he'd fervently wished for something—anything—to bring her back. Nothing had, however, and he'd been left in a cold house with an even colder man.
Madam Zolikoff prattled on, regaining his attention. Had this woman no shame? No empathy for the heartbreak that went along with losing a loved one? For the first time since he sat down, he looked forward to the confrontation with her.
He planned to shut the medium down. Run her out of Manhattan, if necessary, because she was standing in the way of something greater, a different sort of power than he possessed now, but one of greater import. A power he would not fall short of achieving.
John Bennett, a former New York State Senator and current gubernatorial candidate, had asked Will to partner on the ticket as lieutenant governor. It was something Will's father had always wanted, to wield political influence, yet he'd died before his political career could take wings. Now, Will would be the Sloane achieving that goal—and dancing on his father's grave after he and Bennett won.
But John Bennett had a weakness, one by the name of Madam Zolikoff. Seemed the Madam had dug her hooks into Bennett, and the candidate would not listen to reason regarding the dangers this presented. But Will wasn't about to allow her to jeopardize Bennett's political career—or his own. They could not afford a scandal six months before the election.
When the performance finally ended, Will didn't bother clapping or stamping his feet like the other patrons. He rose, turned on his heel, and headed straight for the door he'd learned would take him backstage.
No one stopped him. More than a few curious glances were thrown his way and he tugged his derby lower to obscure his face. He'd run Northeast Railroad for the last thirteen years and came from one of the most prominent families in New York. The name Sloane was equally well known as names such as Astor, Stuyvesant, and Van Rensselaer. Consequently, Will had never shied from public attention, but he'd rather not be recognized here.
For several minutes, he cut through the long hallways in the bowels of the theater. Now at the door to her dressing room, he knocked. A slide of a lock and then the door opened to reveal a brunette woman in a black shirtwaist and skirt, the same costume she'd worn on stage. Her lips were still painted a deep red. He inclined his head ever so slightly. "Madam Zolikoff."
"Come in, please." Her voice was deep and husky, a sultry tone more suited to a bedroom than a stage. Thankfully, there was no trace of that ludicrous Russian accent she'd used in front of the crowd. Perhaps this conversation would not be as difficult as he'd feared.
She stepped aside. "I've been expecting you, Mr. Sloane."
No surprise she knew his face, but had she noticed him in the audience? Three steps brought him inside her dressing room, if one could call a space no bigger than a cupboard a "room." Not enough square footage existed here to allow for more than the small table and chair already in place. A mirror hung on the wall above the table, and a blond wig rested on a stand atop said table. With nowhere to sit, he folded his hands behind his back.
She glided around him and lowered into the sole chair, facing away from him, and reached for a cloth. He watched in the mirror as she slowly swiped the cloth over her mouth to remove the lip color. She didn't rush and Will had plenty of time to study her mouth. He highly suspected the display another type of performance, to throw him off balance.
"Is there another name I may call you, other than your stage name?"
"No."
"I feel ridiculous calling you Madam Zolikoff."
"That is your problem, not mine." Finished with her cloth, she dropped the scrap to the table and caught his gaze in the mirror. "We are not friends, Mr. Sloane, so let's not pretend otherwise. I know why you are here."
"Is that so?" He hadn't expected her to be so forthright. In his mind, she'd been meek and frightened, concerned over the unpleasantness a man in his position could bring down on a woman in her position. But this woman seemed neither meek nor frightened. "And why am I here?"
"You want to scare me away from John. Get him away from my evil clutches." She wriggled her fingers menacingly on this last sentence. "How's that?"
"Good. This saves us both time. Now you may agree to never see Bennett again, stop bilking him out of hundreds of dollars, and stay out of his life forever."
"Bilking him?" Her lip curled, drawing Will's attention back to her mouth, damn it. "I've got news for you, mugwump, I've earned every dollar providing services to your friend—and not those kind of services, either. John and I are strictly business."
Will smirked. He'd never met a man and a woman who spent time together with money exchanged who were 'strictly business.' "Miss whomever you are, I don't care what kind of lies you're shoveling out there to audiences, but I'm not some rube fresh off the farm. I know what you're about, and all of it stinks."
"Oh, indeed? So what am I about, then?"
"Blackmail. And if he doesn't pay, you'll take whatever personal details you've learned about him to the papers and turn him into a laughingstock. I will not let that happen."
She rose and, because of the tight space, this put her close enough to where he could see the hazel flecks in her brown eyes. Were those freckles on her nose? "I don't care who you are or what you think of me. If you think I'm going to let some stuffed, pompous railroad man scare me away from my best client, you are dead wrong."
# # # # #
Ava Jones struggled to contain her smile while the handsome man across from her worked to understand her last sentence.
Yeah, you're catching on, railroad man. I'm not afraid of you.
Everyone in New York knew William Sloane. Obscenely wealthy and from one of the snobbish, high-society families, he was mentioned frequently in the papers, both in the financial and the social pages. No doubt men and women bowed to his demands all day, every day. Not Ava, no way. She owed him nothing and did not care about his demands. If not for her desire to get rid of him for good, she would've completely ignored him.
At least she would have tried to ignore him. Unfortunately, Mr. Sloane was a man one noticed. She'd spotted him in the audience right away. Strong, angular jaw. Pronounced cheekbones highlighting his aristocratic nose. Sandy blond hair swept off his forehead, oiled with precision, and a sharp, unsmiling mouth that challenged a woman to see what it would take to loosen him up.
Up close, the view improved markedly. Piercing eyes that had seemed blue in the theater but were actually gunmetal gray. He was tall, with an air of confidence suitable for a prince and a near-palpable energy radiating from his frame. Wide shoulders filled out the cut of his fancy coat quite nicely. She'd always been drawn to sturdy, capable shoulders. Something about Atlas bearing the weight of the world…
But she'd learned long ago that there was no one to bear the weight of her burdens. Those were hers alone.
"Client?" he scoffed. "Wouldn't 'mark' be a more accurate term?"
Goodness, she was growing to dislike this man. "You assume I am swindling him when I am providing a service."
"By communing with John's dead relatives? Come now, Madam Zolikoff. We both know that's impossible."
Did he have any idea how lonely John Bennett was? Whether her clients believed in her powers or not, most needed someone to care about them. A friend with whom to talk. A person to give them hope that there was something beyond this drudgery called life. That was what Madam Zolikoff provided—for a nominal fee, of course.
These performances were another matter. People wanted a spectacle. A unique experience to share with their friends and neighbors. A bit of the fantastic to distract from the fatigue. Not everyone came from a wealthy family and ran a big company as a lark; most people needed a break from their daily trials.
"You speak of things you do not understand," she told him. "When I hear from John that he no longer requires my gift, then I will respectfully back off. But you act as if he is an opium eater and I am providing him with the opium. I am not forcing him to see me."
"What I understand is that you are preying on a wealthy and soon-to-be influential man."
Her muscles tightened, anger building in every inch of her body. "I would never blackmail him—I'm not trying to make trouble. The governor as my client would only help me." Bigger-named clients meant more clients, which equated to more income. All she needed to do was save up enough money to get her two brothers and sister out of the factories. By her calculations, she had only four more months to go if all held steady. Four more months, after adopting the Madam Zolikoff likeness two years ago, and she'd have enough to keep her family safe.
Out of the city. Away from the filth and toils of life in this city. Away from bitter memories. Instead, they'd have clean air and open spaces on a farm upstate. Freedom.
Mr. Sloane shook his head and pinched the bridge of his nose with two fingers, which caused Ava to roll her eyes. How could someone so wealthy appear so aggrieved? Did this man not know real problems? The tip of her tongue burned with an offer to take him to the match factory to show him cases of phossy jaw. Had he seen the women with their faces rotting away, jaw bones glowing in the dark, all because they'd needed to put food on their table?
Those were hardships. Not the fact that his friend and political partner paid her five dollars a week to read tea leaves and pass on bits of "news" from the great beyond.
"How much will it take?" Sloane asked her. "How much do you need to walk away?"
Oh, so tempting. Ava could throw out a high number and see if railroad man would bite. If he did, her siblings could quit their factory jobs. She would have enough to buy that piece of property and they could all be together. Finally.
But she didn't. First, pride would not allow her. Taking Sloane's money would be akin to admitting she was robbing people, which she did not. Second, she knew better than most that accepting money never came without strings. If you took what was offered, they felt as if they owned you.
And no one owned Ava Jones. Not any longer.
"You don't have enough money to make me disappear. But if it makes you feel better, I'll cut you a deal on a séance."
He made a sound in his throat. "That is the last thing I need."
A knock sounded on the door before Robbie, one of the assistants, called, "Ava, hurry up. I need the room."
Mr. Sloane's brows jumped and Ava cursed inwardly, irritated at the small revelation. "Ava," he drawled, as if testing the sound on his tongue. "Pretty. Also, I like your hair better this way, without the wig."
She turned and began shoving her things into her carpetbag, trying to ignore the fluttering in her belly. The compliments were as unexpected as they were unwelcome. "Save the poetry for your Fifth Avenue debutantes, railroad man. You're wasting your time with me." She carefully lowered her wig and wig stand into the bag. Found her bonnet. Then she began shrugging into her coat.
A hand caught the coat and held it up. She easily slipped her arms through. "Thank you," she mumbled.
Without waiting for him, she pushed into the hall and strode toward the exit of the theater. The heels of her high boots ticked on the hard floor and she could hear Sloane's fancy evening shoes keeping pace. No doubt he was headed somewhere glamorous, like to the opera or a high society ball. Not to a cramped three-room apartment in a west side boarding house that she shared with her siblings.
She opened the door to the lobby. "Everything all right, Ava?" Robbie eyed her carefully, gaze bouncing to the silent man behind her.
"Fine, Robbie. Tell your sister I'll be by tomorrow. See you next week."
He nodded and she continued out the main doors. An early evening rain had fallen during her performance, cooling the air a bit more than one would expect in mid-spring. The gaslight from the street lamps cast a yellow glow over the dark, wet cobblestones. Ava loved the rain. It washed the city clean and provided the residents with a reprieve from the usual odors, those of sweat, trash, offal, and horse.
"You've acquired quite a following for these shows."
"You're still here?" She started walking, not caring whether he followed. Unfortunately, his long legs had no problem keeping pace with her. "I'm very good at what I do, Mr. Sloane. Admit it, you were entertained."
His mouth twisted as if he'd sucked a lemon. "I was offended, if you must know."
Now at the corner, she crossed over Twenty-Seventh Street, heading south, and tried to contain her annoyance. "We don't serve champagne and caviar, so I can imagine what a hardship the evening was for you."
"I was referring to the flimflam you performed on those poor unsuspecting people."
"Flimflam? Those 'poor unsuspecting people' wanted a show, and that's what I gave them. There's a reason I perform in a theater, and I'm damn good at what I do."
"You take their money and pretend their dead relatives are speaking to you."
He spoke to her as if she were a criminal, his tone condescending and cutting, and blood rushed in her ears. "First of all, how are you so certain my talents are not real?" He started to open his mouth, so she stopped on the sidewalk and pointed a finger in his face. "You don't have any idea, Mr. Sloane, so save your judgment. Second, I wasn't aware that your own business practices were always so scrupulous." His eyes dimmed and she knew she'd landed a blow. "I'm sure while running a big railroad you never skirt the law or buy political favor. So save me your sanctimonious attitude."
"Fine," he snarled, leaning closer. "Run your con anywhere you want, sweetheart, but leave John Bennett alone."
Will Sloane was tall, much larger than she, yet she didn't back down, not for one second. She'd already let one overprivileged, handsome man try to wreck her life. No way would she repeat the mistake.
She glared up at him. "Not in your wildest dreams do I take orders from the likes of you. Go bully someone else."
# # # # #
Goddamn this woman.
Will could not believe her. He'd offered her any amount of money to back off and she'd laughed in his face. Him, William Sloane. The sheer gall was staggering.
Now she was walking away, so he hurried after her, his long strides eating up the narrow sidewalk. A particularly rough part of town, the Tenderloin was no place for a young woman after dark. Yet she held her head high, unconcerned over her safety.
He took a moment to study her—Ava, not Madam Zolikoff. The simple, military-style cut of her coat hugged her small shoulders and upper body, revealing generous curves. A small straw bonnet with fake flowers covered sable-brown hair pinned to her head. Her boots were worn, but clean. No jewelry. He hadn't noticed a wedding ring before she donned her gloves, yet he had unfortunately noted how she generously filled out the bodice of her shirtwaist.
Men loitered in a doorway near the corner and their gazes tracked Ava as she went by. One of the toughs pushed off the stoop, as if to follow her, and Will pointed a finger at the man. Don't, he mouthed, and the man stopped in his tracks, raising his hands in surrender.
Two more steps brought Will alongside her. "You should have an escort. This is not an area of town safe for a woman out alone."
She snorted. "There isn't any area of town safe for a woman out alone. Not even in your fancy neighborhood." She shoved her hands into the pockets of her coat. "And you don't need to protect me. I can take care of myself."
He didn't doubt that. The image of a lioness came to mind, one that would chew up a man and spit him out. "Are you always so difficult?"
She threw her head back and laughed—a genuine, sultry sound that hit him square in the gut. He pushed down the reaction, put it in a place with all the other things he ignored.
"Only with men who try to boss me around."
"A lot of those in your life?"
"Just one, apparently. Any ideas on how to get rid of him?"
Will's lips twitched from suppressing a smile. "No, unless you're ready to give in. I won't disappear until you leave John alone."
She stopped in her tracks and put her hands on her hips. Her brown gaze lit up with fire and brimstone, her generous bosom heaving in a distractingly enticing manner. "Why do you care so much? Your money could buy whatever election you wanted, cover up any hint of scandal that might occur. Therefore, you don't really care about what I'm doing to John. Tell me, why are you following me? 'Cause I need to tell you, I'm not buying it."
What the hell was she implying? That he was after her? His muscles clenched as he stepped closer, hoping to intimidate her with their difference in height. Surprisingly, she held her ground, merely lifted a brow as if to say, Get on with it. He tried not to be impressed.
"First, I would never use my money to buy an election. I want to win and I mean to do that fairly. Second, I can cover up just about any scandal I want, but all it takes is one whiff, one hint of impropriety, and my political career will be over before it begins. I'll be a laughingstock. And there's no way I'll allow that to happen."
"No, John will be a laughingstock. John's political career will be over. And"—she made a disbelieving sound—"you act as if New York politics are clean and fair. We both know politicians are dirtier than chimney sweeps, and that's saying something."
"I wouldn't throw stones at the legitimacy of other vocations, were I you."
"Oh!" She threw up her hands and stomped away. "Leave me alone, William Sloane."
He trailed after her, catching up in a few steps. "You're wrong. In my world, you're judged not only on your own actions, but the actions of those around you. The company you keep. If John goes down, I go down as well."
"Then I can only imagine what your world would think of you keeping company with me in the Tenderloin."
"They'd think I'd lost my ever-loving mind," he muttered.
"Then scurry back home to Fifth Avenue. I'm sure your butler has brandy and cigars waiting. No one here is stopping you."
"Washington Square."
Her head swung toward him. "Pardon?"
"I live on Washington Square." It had been a long time since he'd had to tell anyone that. The Sloanes had been in that location since the city covered up the graves and converted the space to a public park.
"Oh, excuse me," she said with mock sincerity. "Scurry back home to Washington Square."
"After you promise to stop your shenanigans with John."
"Sloane!"
The voice came from behind them, so he spun to see who was there. A few people were out, but no one close enough. No one came forward or even met his eye. Who had called his name?
Strange.
Facing forward, he instantly noticed something else. He was now alone.
"Ava?" Feet planted, his gaze swept the sidewalk and the street, searching. He peered across to the other side, thinking maybe she had crossed the street. Nothing.
There was no sign of her. She had disappeared into thin air.
You can purchase BARON at:
Buy Link: http://www.kensingtonbooks.com/book.aspx/33913
ABOUT THE AUTHOR: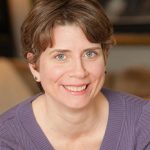 Award-winning author Joanna Shupe has always loved history, ever since she saw her first Schoolhouse Rock cartoon. While in college, Joanna read every romance she could get her hands on and soon started crafting her own racy historical novels. She now lives in New Jersey with her two spirited daughters and dashing husband.
Author Social Media
Website: www.joannashupe.com
Twitter: @joannashupe, https://twitter.com/JoannaShupe
Facebook: https://www.facebook.com/joannashupeauthor