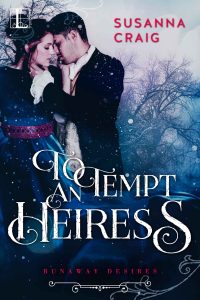 Susanna Craig Brings Back a Decorating Tradition and Shares Sneak Peek of To Tempt an Heiress
Although To Tempt an Heiress isn't a Christmas romance, it does end on Christmas Eve—in 1796. The heroine, raised in Antigua and newly arrived in England, isn't quite sure what to make of some of the customs she encounters. But most of them are probably familiar to you. A Georgian Christmas was a month-long affair that began on December 6 (St. Nicholas Day) and lasted until January 6 (Twelfth Night). Then as now, people spent those weeks attending parties, exchanging gifts, and of course, eating and drinking. A lot.
The iconic Christmas tree wasn't yet a part of the celebration, however. Popularized by Queen Victoria in the middle of the nineteenth century, the Christmas tree was first introduced in England by Queen Charlotte in 1800. Before that, families still celebrated by bringing greenery inside, often in the form of a kissing bough. Arriving guests were embraced under the bough and old grudges were supposed to be set aside. And if the bough contained mistletoe, you were of course free to kiss the one standing beneath.
This Christmas, why not make your own kissing bough? First, bend two wire coat hangers into circles, then nest them inside one another to make a sphere. Using florist's wire to hold it in place, wrap fresh greenery around each of the metal segments (including mistletoe, if you wish!). Finish with a loop of ribbon for hanging and perhaps add a few Christmas balls or other decorations in the center. Want to make it even easier? The kids can help with this one: begin with a large Styrofoam ball, wrap pretty ribbon around the center to hang, and stick small sprigs of greenery into the ball until it's full. Then put it up in the entryway, enjoy the wonderful scent, and share a few more hugs and kisses this season!
TO TEMPT AN HEIRESS by SUSANNA CRAIG
Susanna Craig's dazzling series set in Georgian England sails to the Caribbean–where a willful young woman and a worldly man do their best to run every which way but towards each other…
After her beloved father dies, Tempest Holderin wants nothing more than to fulfill his wish to free the slaves on their Antiguan sugar plantation. But the now wealthy woman finds herself pursued by a pack of unsavory suitors with other plans for her inheritance. To keep her from danger, her dearest friend arranges a most unconventional solution: have Tempest kidnapped and taken to safety.
Captain Andrew Corrvan has an unseemly reputation as a ruthless, money-hungry blackguard–but those on his ship know differently. He is driven by only one thing: the quest to avenge his father's death on the high seas. Until he agrees to abduct a headstrong heiress…
If traveling for weeks–without a chaperone–isn't enough to ruin Tempest, the desire she feels for her dark and dangerously attractive captor will do the rest. The storm brewing between them will only gather strength when they reach England, where past and present perils threaten to tear them apart–even more so than their own stubborn hearts…
You can purchase To Tempt An Heiress at:
Kensington Books
ABOUT THE AUTHOR: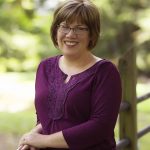 A love affair with historical romances led Susanna Craig to a degree (okay, three degrees) in literature and a career as an English professor. When she's not teaching or writing academic essays about Jane Austen and her contemporaries, she enjoys putting her fascination with words and knowledge of the period to better use: writing Regency-era romances she hopes readers will find both smart and sexy. She makes her home among the rolling hills of Kentucky horse country, along with her historian husband, their unstoppable little girl, and a genuinely grumpy cat.
Author Links:
Website: http://www.susannacraig.com/
Twitter: https://twitter.com/SusannaMCraig