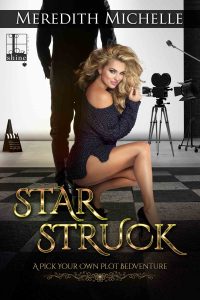 STAR STRUCK by Meredith Michelle and "Writing Undercover"
Are You Ready To Choose Your Own Hollywood Ending?
You are Anna Chambliss, a beautiful A-list actress engaged to a gorgeous Hollywood star. Life is beyond perfect—until you wake one morning to find tabloid headlines proclaiming that your fiancé is cheating on you. How do you react? Your love life, your career, and your future happiness all depend on what you choose to do—and who you do it with.
Will your engagement crumble in public scandal?
Do you seek out a sexy new leading man? Enjoy a night of mind-blowing bliss with a near stranger?
Or do you find your soul mate away from the spotlight's glare?
Every decision you make has consequences, some steamy, some dangerous. Follow your destiny from movie sets to glittering premieres to glamorous vacation spots—and always remember: life in the fast lane can include all kinds of juicy detours. The choice is yours…
Writing Under Cover by Meredith Michelle
This will come a HUGE surprise: Meredith Michelle is a pseudonym.  Well, sort of.  It's actually my first and middle names.  Writing Star Struck has been an adventure and a pure pleasure – but a very private pleasure until now.
Why write under a pseudonym? The reasons are probably different for every author who publishes under a name different from his or her own.  For me, the Pick Your Own Plot Bedventure Series is very much influenced by who I am (an avid follower of all things pop culture, a performer, and a lifelong Choose Your Own Adventure Series fan) and is at the same time very much a departure from my public persona.  In my "real" life, I'm a relatively well-known real estate agent in the D.C. suburbs and a mom who serves as a VP of our neighborhood elementary school PTA.
When I received the happy news that my first book would be published, one of the first questions I was asked was whether I would publish under a pseudonym.  My immediate answer was, "yes," but as I thought more about it the question gave me pause.  On one hand, I wanted to be able to tell my friends and colleagues my exciting news.  On the other hand, I wasn't sure it was a good idea to mix my professional brand with the branding of my new book series. In the end, I chose to publish under a pen name. As it turns out, my closest friends, my colleagues, and of course my family have been on the adventure with me, in on the secret, and were among the first to snap up copies of Star Struck – and they couldn't be more proud and thrilled.
The downside to writing under a pseudonym is that my audience doesn't really know me.  They can't search my private profile on Facebook to see my frequent posts about my three terrific kids or that I have a wonderful husband who currently has my house decked out in Griswold -style Christmas lights and who has planned a dream vacation in Hawaii for the family this winter.  Or that I have the world's most handsome dog, a silver lab named for a Game of Thrones direwolf.  Or that I spend every free moment when the weather is warm (and I'm not working, writing, at a kid's sporting event, or acting in local theatre productions) boating on the Chesapeake Bay.  So, I'll do my best to share a little bit of myself on my social media author sites and pages, and hope that my readers will enjoy the escape that I have found in writing the series when they open the cover of Star Struck and take Anna on her many Bedventures.
Now that the Pick Your Own Plot Bedventure books are no longer a private endeavor, I'm ready to pull the cover back, at least a little bit.  Come along with me for the ride – it's a lot of fun writing your own adventure – even (or maybe especially) when it's written under cover.
You can purchase Star Struck at:
Kensington Books
About the Author:
Star Struck is Meredith Michelle's debut and is the first in the Pick Your Own Plot Bedventures series. It combines her lifelong fascination with celebrity culture and her childhood love of the Choose Your Own Adventure series. Meredith has been an avid writer since her youth, penning plays, poetry and short stories. She is a native and current resident of the Washington, DC area, where she lives with her husband and three children.
Author Links:
Twitter: https://twitter.com/pyopbedventures