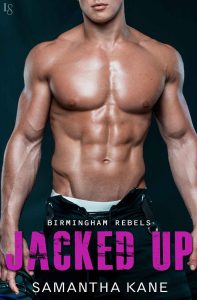 Resolutions with Author Samantha Kane
I normally don't make New Year's Resolutions. I think they're a set-up for failure. Instead I say," I'l try to….(fill in the blank) this year." It's much more user friendly. So this year I'm going to try:
1. Writing outside my comfort zone. I'm going to work on some straight, non-romance fiction this year, including historical fiction and science fiction.
2. Wrap up some romance series that I've left sitting half-done for far too long because of other commitments.
3. Be more organized when it comes to the business side of writing.
As for personal I'll try to's, I'm going to try to spread out my work commitments so that it leaves me more time to spend with my family and to work on my new house. And I'm going to start meditating. I hear this works great to reduce stress and to encourage more creativity. So here's to a happy, healthy, more organized, productive and stress free 2017!
Here's a sneak peek at Jacked Up – Birmingham RebelsThe secret about the Birmingham Rebels is out: With a girl in the middle, two mouth-watering football studs are better than one.
Linebacker Sam Taylor feels like a ticking time bomb. He left the army with emotional wounds as fresh as the scars on his back. Sam's been living like a monk, but his best friend, defensive lineman King Ulupoka, wants to get him laid. Easy for him to say. The larger-than-life Samoan is a hard-bodied, tribal-tattooed fantasy. Sam agrees, under one condition: King stays to watch.
ER nurse Jane Foster is done being a good girl, and nothing says wild like picking up two of football's sexiest players and bringing them back to your hotel room. Trouble is, she can't decide which one she wants more. Sam is hot, sweet, and vulnerable. Jane's more than willing to ride him into oblivion. But King's intense gaze from across the room promises that the best is yet to come.
Sure, King has had his choice of girls and guys in the past. That doesn't mean he'll jeopardize his relationship with Sam over a case of locker-room lust—until a naughty nurse pushes them both out of their comfort zones. Seeing Jane and Sam together turns King on more than he ever imagined. If they're game, he's ready to tackle a three-way play.
You can purchase Jacked Up at:
Find out more about Samantha and her books at:
Birmingham Rebels
Mercury Rising
The 93rd Highlanders
The Saint's Devils
Brothers in Arms