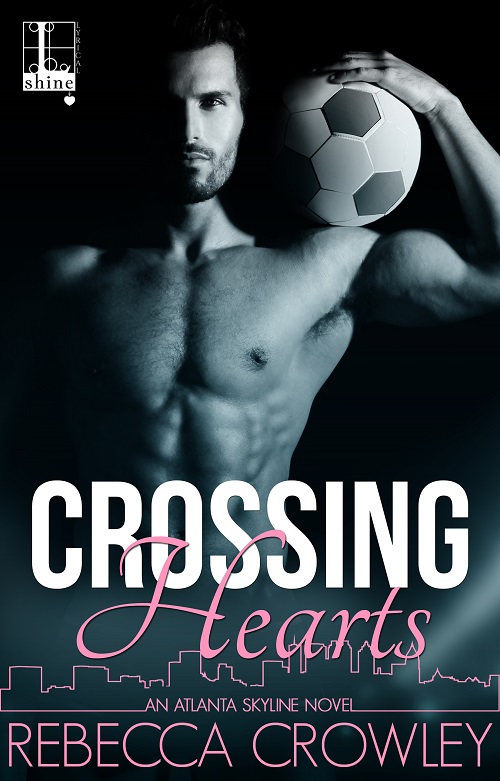 Rebecca Crowley
Hello, readers! I'm so excited to share a sneak peek of Crossing Hearts, the first in a new series about the sexy soccer players of Atlanta Skyline. I'm especially excited to introduce you to my cheeky, charming, Chilean hero, Rio Vidal.
Rio is a bit different to your average romance lead. For one thing, he's short! At barely five-foot-seven, Rio is a far cry from the staggering six-foot-plus giants that tend to grace the pages of most romance novels. But don't worry, what he lacks in vertical inches he makes up for in swagger, sex appeal, and wicked salsa skills.
Personally, I'm a terrible dancer, and I'm never more in awe than when I see someone who's great. As I was writing Crossing Hearts, my husband and I took our toddler to a Latin American festival in a park near our house. One of the live music acts was a salsa band, and I swear my jaw almost hit the grass as I watched an otherwise normal-looking couple become sizzling salsa maestros before my eyes. One minute they were in line to buy churros, and the next they were burning up the dance floor! I would love to be able to casually put down my festival snack and bust out a high-octane dance routine, and decided that my hero would do exactly that. The result was a very sexy dance scene in a salsa club… But I'll leave it to you to read what happens.
It just goes to show that looks can be deceiving. That yawning woman ahead of you in the line might be a secret salsa aficionado. And that five-foot-seven guy might just be the super-sexy romance hero you've been waiting for!
Crossing Hearts by Rebecca Crowley

New to the U.S. soccer scene, not to mention the English language, compact yet explosive Chilean soccer legend Rio Vidal is driven to define a role on his new team, Atlanta Skyline. But he must also adapt to a new culture—and accept that he can't do it alone. His beautiful interpreter, Eva, has been his voice, his refuge. But she is becoming so much more. If only he could convince her he isn't like the other men she's worked with, players on—and off—the field.
As a translator for pro athletes, Eva Torres is used to dealing with self-interested super stars. But Rio seems different, and she's blindsided when he locks eyes with her across a church pew. By now, after weeks of close contact with the endearing athlete with whom she shares a language, her thoughts are far from holy. She must remind herself flirtation is probably just his default style. Plus, she's the only one he can really talk to. But when his ambition threatens to derail his career—and their deepening connection—they'll both have to lay their hearts on the center line.
Buy links: Amazon * Amazon UK * Barnes & Noble * Kobo
About The Author:
Rebecca Crowley inherited her love of romance from her mom, who taught her to at least partially judge a book by the steaminess of its cover. She writes contemporary romance and romantic suspense with smart heroines and swoon-worthy heroes, and never tires of the happily-ever-after. Having pulled up her Kansas roots to live in New York City and London, Rebecca currently resides in Johannesburg, South Africa.
Author Links:
Website: rebeccacrowley.net
Twitter: https://twitter.com/rachelmaybeidk
Facebook: facebook.com/rebeccacrowleywrites