What a blast this RT Round Robin was! Authors, Lexi Post, Melanie Jayne, and Julie Moffett were very fun to chat with. I know if it weren't for the time limit, we'd still be chatting. Especially about all the fun things they've done in their lives, and about their pointers on mastering the upcoming RT Booklovers Convention. I'm so looking forward to seeing these wonderful ladies in Atlanta!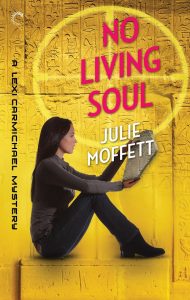 Julie Moffett is a bestselling author and writes in the genres of Mystery, Historical, and Paranormal Romances. She's won numerous awards, including the 2016 Award of Excellence, the 2014 Mystery & Mayhem Award for Best YA/New Adult Mystery, the prestigious 2014 HOLT Award for Best Novel with Romantic Elements, a HOLT Merit Award for Best Novel by a Virginia Author (twice!) to name a few.
Book Blurb:
My work as a computer geek has me traveling around the world, solving mysteries and fighting bad guys. Sometimes with my friends, but always with trouble by my side. So you'd think I would've expected to be plagued by danger when I headed to Egypt with my best friend, Elvis Zimmerman, and boyfriend, Slash, to help track down Elvis's missing and estranged father. Nope.
Genius runs in the family, and we quickly discovered Elvis's father is hot on the trail of an ancient and elusive artifact…one that people are willing to kill to find. Tombs, tablets and code come together as we follow a set of clues that has been waiting millennia to be discovered.
Cracking code is my specialty, but I never expected to tackle one from fifteen hundred years before the advent of written language. The sands of time are running out. If the artifact falls into the wrong hands, we won't be able to rewrite history. So it's up to us to find and safeguard the secret to ensure no living soul ever encounters it…again.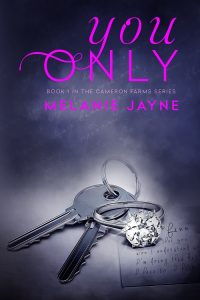 Melanie Jayne worked in several jobs before deciding to follow her true passion. Now she's living her dream—as a Romance Writer. Her first book was published in 2015, and features strong, memorable characters that prove that love over the age of thirty-five is possible, and that love and happiness aren't just for the young, but young at heart.
Book Blurb:
Fifteen years ago the hometown princess ran away…
Her prince, Finn Webber, has moved on, but he never forgot his heartbreak. Now, Hale Cameron, his lost love, is back and he is curious.  This new Hale is smart, sassy and sexy.
Hale is back home and all grown up. She's smarter and sassier. But there are still things she needs to revolve, one of which is Finn Webber, the guy whose heart she broke. She hopes he can forgive her for her past mistakes. What she doesn't expect is his reaction to her.
Time may have passed, but old feelings are still alive. Find out what happens when the hometown princess comes home and discovers that her prince isn't as immune to her as she believed.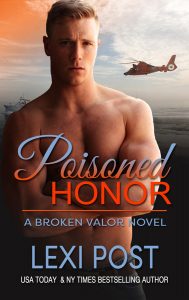 Lexi Post is a New York Times and USA Today best-selling author of romance inspired by the classics. Lexi writes Paranormal, Sci-fi, Contemporary Cowboy, and Military Romance.
Book Blurb:
Coast Guard rescue swimmer, Tyler Adams must push past the limitations of his near-fatal accident to save the woman he loves or lose her forever.
After a near-fatal accident while on duty, Coast Guardsman rescue swimmer, Tyler Adams is determined to get back to work. Unfortunately, it has left him with a mental scar he can't overcome, a scar he must hide from the sexy psychologist he's very attracted to. But as more "accidents" plague the Air Station, he is forced to involve her.
Dr. Meghan Haskell is thrilled to have landed the government contract to help the Coast Guardsmen and women in Crystal Waters, Florida. She's also impressed that Tyler has had no need of her services even after his accident. Smitten, she jumps at the chance to spend more time with him…until he asks the unthinkable.
Beyond frustrated after another crew member is seriously hurt, Tyler pushes every boundary to expose the saboteur, inadvertently endangering Meghan. Now he must overcome his limitations or lose her forever.
Click on any of the book covers to listen to the Podcast!
Connect with these ladies on Social Media: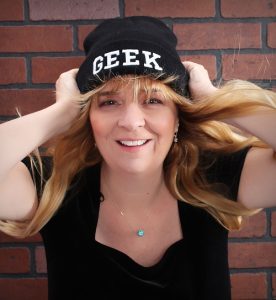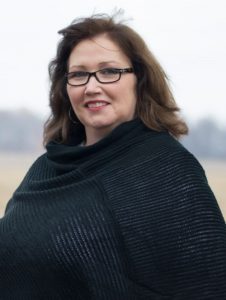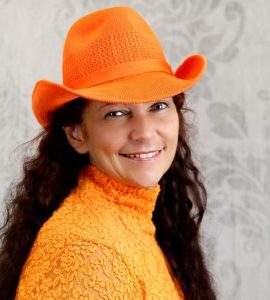 The Best in Military Romance, Contemporary Romance, and Mystery!