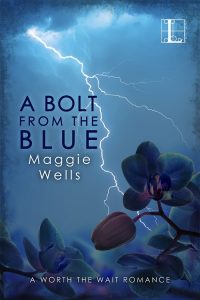 True love fresh out of the fryer! by Maggie Wells
I'm a transplanted Yankee who fell for a slow-talking Southern gentleman and moved to the mid-south. There were a number of things I had to adjust to when I moved from Illinois to Arkansas. There was a slight language barrier to start. Back home, I would say it was about to rain. My husband would tell you it's 'fixin' to come a storm'. My absolute favorite adopted phrase is 'might oughta'—as in, "You might oughta roll your car windows up, it's fixin' to come a storm."
See? I've totally got the hang of it now.
One thing I have unabashedly embraced is a love of fried foods. Aside from the foot-long corn dogs, grater taters, funnel cakes and elephant ears one expects to see jumping into the fryer, down here, you can score fried pecan pie, bacon, butter, s'mores, Oreos, and dozens of other things. Our state fair is chock-full of booths offering just about anything you can imagine battered, deep-fried, and served on a stick. Oh, and dusted in powdered sugar.
We've sampled a number of these treats:
Deep-fried Twinkie, anyone?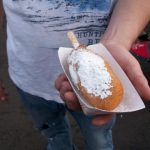 Hey, it's Kool-Aid!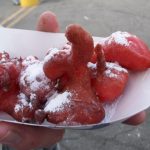 Yep, Kool-Aid. You can even get normally-icy-cold Coca-Cola served hot and sweet. And it's delish!
Don't believe me? Make it yourself!
Deep-fried Coca-Cola
Ingredients:
1 1/2 cups Coca Cola, plus 1/3 cup reserved
1/4 cup confectioner's sugar
1/2 teaspoon cinnamon
2 quarts canola oil
1 teaspoon vanilla extract
1 cup baking mix (Bisquick, Jiffy, etc.)
1/4 cup all-purpose flour
In a small saucepan heat 1 1/2 cups of Coca Cola over medium high heat until it reduces to 1/2 cup of cola concentrate. About 15-20 minutes. Set aside. Combine confectioner's sugar and cinnamon in a large bowl and set aside.
Heat oil to 360°F in a large Dutch oven. Maintain even temperature.
In a large mixing bowl, whisk 1/3 cup reserved Coca-Cola with vanilla. Stir in baking mix to make a sticky dough. Sprinkle with flour until easier to handle. Turn dough out on a floured surface and flatten to about ½" thick. Cut into ¾" pieces and roll into a ball.
Place dough balls 4-6 at a time into a heat-resistant basket or strainer and lower into the hot oil. Fry 1-2 minutes on each side until golden brown. Removed from oil and drain on paper towels. Repeat until all dough is fried.
Roll the fritters in the cinnamon and sugar mixture, place in small glasses, and drizzle with previously reduced Coca-Cola. Serve hot and delicious!A Bolt from the Blue by Maggie WellsTrue love, like lightning, never strikes twice—or does it?As a free-spirited young woman, Hope Elliot was desperate to escape her snobbish high society family. So she ran off to Paris, where she lived for twenty-five years. Now widowed, she's come home to settle her family's massive lakefront estate. But before she can put her mother's house on the market, it needs a major renovation. Enter master electrician Mick McInnes, a traditional guy who's about to turn her life upside down . . .

Aside from the fact that Mick is hopelessly attracted to his latest client, Hope represents everything he doesn't want in a woman. She's ridiculously rich and adventurous, yet she doesn't seem to know much about the real world. Besides, his policy is to never get involved with clients. But he can't seem to resist the Chicago heiress's sizzling advances—and soon enough finds himself in her bed, feeling like a teenager once again. And like teenagers, the two of them will just have to convince their families that opposites can not only attract, but they can also make the perfect match . . .
You can purchase A BOLT FROM THE BLUE at:
Kensington Books

About The Author:
Maggie Wells is a deep-down dirty girl with a weakness for hot heroes and happy endings. By day she is buried in spreadsheets, but at night she pens tales of people tangling up the sheets. The product of a charming rogue and a shameless flirt, this mild-mannered married lady has a naughty streak a mile wide.

Author Links:

Website: http://maggie-wells.com

Twitter:  https://twitter.com/MaggieWells1

Facebook: https://www.facebook.com/groups/maggiewells/?ref=bookmarks