What She Writes by Melissa West
As an author, one of the most common questions I'm asked when someone learns what I do is, "What do you write?" This is an interesting question for me, because "romance" doesn't seem to cover it and "Southern fiction" doesn't quite work either. In truth, I write about life and my characters' journeys to finding happiness in life. Sometimes that happiness involves discovering who he or she is at heart. Sometimes it's about finding his or her career. But almost always, a part of that journey involves finding love and acceptance in another person.
Some might feel romance is a minor part of our lives, but for most people getting married and/or finding a person to spend your life with is a big, big deal. Because anyone who has been married for any amount of time knows that marriage is full of complexity. It is learning to compromise. It is learning to juggle multiple tasks. It is finding out how strong you are in the face of a newborn baby who refuses to sleep or the sudden death of a loved one.
The romance component of our lives isn't a small detail, and it shouldn't be trivialized in the book world either. It can't be reduced to claims that it is nothing more than sexy covers or over-used plotlines. Love, marriage, partnership is a lot more than that, and those who write it, who read it, understand they are writing or reading about a lot more than a "shallow romance." They are writing or reading about the largest, most important aspect of our lives.
CHASING LOVE………..
Farming family land on sunny Crestler's Key, the sweet, sexy Littleton brothers are notorious bachelors. But all that will change when the right woman comes along . . .
There aren't many things Charlie Littleton values more than his lifelong friendship with his buddy Lucas, currently home from a tour in Iraq. But when he discovers that Lucas's younger sister, Lila, is back to assist the town's overburdened veterinarian, Charlie is torn. She's no longer the skinny, awkward kid he remembers, but a gorgeous woman—one Lucas would never approve of him dating. When Lucas asks him to watch out for Lila when he's called to duty again, Charlie can't say no—but he can't pretend it's easy to ignore his feelings either.
As a teen, Lila crushed on Charlie—hard—and the man he's grown up to be is even more wonderful than she dreamed. Relationships are a tricky business, though, and too much history is at stake to risk one now. But every moment they're together is heated by their simmering attraction—and one day an impulsive kiss leads to much more. What's tangled in a matter of loyalty soon becomes a question of the kind of love worth chasing . . .
You can purchase CHASING LOVE at:
Amazon: http://amzn.to/2pCGomg
Barnes and Noble: http://bit.ly/2q9L3xU
iBooks: http://apple.co/2pppKeU
Kobo: http://bit.ly/2qZ9Eby
Google: http://bit.ly/2r76K20
About The Author: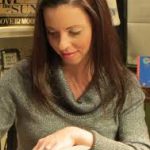 USA TODAY bestselling author Melissa West is the author of more than fifteen novels, each set in the South and ready to steal a reader's heart with Southern charm, sweet tea, and a whole mess of gossip. When not writing, she enjoys spending time with her family in Georgia.
Author Links:
Website: www.melissawestauthor.com
Twitter: https://twitter.com/MB_West
Facebook: https://www.facebook.com/MelissaWestAuthor/