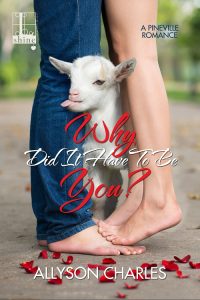 Go-Go-Goat Yoga by Allyson Charles
In WHY DID IT HAVE TO BE YOU?, my latest book with Lyrical Press, a goat features very prominently in the story. His name is Milo, and there isn't anything he doesn't like to eat – except for maybe his actual food. I had a lot of fun researching goats, and now even have cute baby goat pictures popping up in my Facebook feed (I might have a problem). Goats are useful for producing milk, giving us great yarn, for helping you with your Downward-Facing Dog… Wait, what?
Yes, apparently goats are not only adorable and their milk makes delicious cheese, but they are also great at helping you increase your flexibility and find your center. Goat Yoga, an actual thing, will have you lunging and cat posing, and my personal favorite, corpse posing, all while little goats climb and butt heads with you. Now, you might be thinking, why the heck would I want livestock crawling on me, and, as my sister pointed out, livestock-related products (euphemism alert) anywhere near my yoga mat? The better question is, why would you want your play-time with a bunch of adorable little goats spoiled with yoga? Seriously, have you seen baby goat faces? Adorable. Who could concentrate on holding a pose with those little faces begging for love?
The trend for goat yoga started in central Oregon, in the Willamette Valley. In theory, having goats wander around and climb on you as you exercise combines animal therapy with all the benefits of yoga. Just think how strong your shoulder and arm muscles will be if you plank with a goat perched on your back. And the goat drool dripping on your hair… Yeah, maybe not. I think I'll stick with the delicious cheese and the knitting supplies that a goat can provide. And if I need a little goat therapy, because who doesn't every once in a while, I'll head to a petting zoo.
WHY DID IT HAVE TO BE YOU?
Connie Wilkerson has worked her butt off to go from heartbroken paralegal with a drinking problem to becoming Pineville, Michigan's fiercest new lawyer. But she's still short on luck. Exhibit A: her very first case is against bad-boy contractor David Carelli.
Carelli has been a thorn in Connie's side since high school, getting away with whatever he dreams up. He's blond, handsome, and he dresses like a model. But everyone in town knows he cuts corners. Just the way he looks at her really gets Connie's goat. She's going to get him into chambers and settle the smug right out of him.
There's just one problem. Exhibit B: Their supposedly hostile negotiations are turning hot instead. Now the jury is out on whether a second chance is recommended . . .
Buy Links
Amazon: http://www.amazon.com/s/?field-keywords=9781601836076
Apple: http://itunes.apple.com/us/book/isbn9781601836076?uo=8
B&N: http://www.barnesandnoble.com/s/9781601836076
Google: https://play.google.com/store/search?q=9781601836076&c=books
Kobo: http://www.kobobooks.com/search/search.html?q=9781601836076
About The Author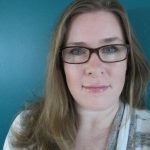 Allyson Charles lives in Northern California. She's the author of the "Pineville Romance" series, small-town, contemporary romances published by Lyrical Press. A former attorney, she happily ditched those suits and now works in her pajamas writing about men's briefs instead of legal briefs. When she's not writing, she's probably engaged in one of her favorite hobbies: napping, eating, or martial arts (That last one almost makes up for the first two, right?). One of Allyson's greatest disappointments is living in a state that doesn't have any Cracker Barrels in it.
Sign up for Allyson's newsletter at allysoncharles.com/newsletter.
Author Links
Website: www.allysoncharles.com
Twitter: https://twitter.com/1allysoncharles
Facebook: http://www.facebook.com/AuthorAllysonCharles