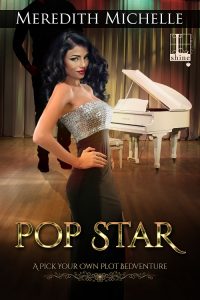 How Pop Culture Influences My Writing by Meredith Michelle
Who doesn't love pop culture?  When coupled with the artistry and entertainment pop stars bring to the mix, pop culture is even more scintillating.  Have you ever wondered what the private lives of those glamorous pop stars is really like?  As a concert-goer and music fan, so did I.
Before writing Pop Star, I did some research, reading everything from biographies to blogs written by current pop and rock stars and music entertainment legends.  Some of the juiciest morsels were the romantic lives of these public figures, who tend to couple with other entertainers, actors, and musicians, and whose private affairs become amplified in the spotlight. These stars live at the center of a whirling hub of attention and adoration, and often that world spins their romantic lives in unexpected directions.
That whirlwind world of rock star romance is what Pop Star explores, pulling back the façade of fame's fast lane to expose what happens backstage and behind the scenes, when everyone wants you but you don't have time to think about what you really want.  The world of Pop Star lets the reader take control of the hand of fate, directing her own course and choosing her own happy (or in some cases less than happy) endings.  I hope you'll enjoy taking the journey as much I enjoyed creating it!
POP STAR………………
You are Honey Noble, this month's Rock N Roll Magazine cover star, with a platinum debut album and swarms of devoted "Honey Bees." Life has never been sweeter—or crazier, as you juggle a cross-country tour (traveling on your luxury Airstream tour bus), a clothing line, fabulous endorsements, and a relationship with gorgeous former boy-bander, Crispin Hershey.
But rumors are swirling about Crispin's flirtation with pop's bad girl, Trixie Sheer. And life on tour is opening up all kinds of intriguing possibilities for you, too . . .
Do you snoop into Crispin's phone to discover the truth about Trixie?
Will a night in Vegas lead to a quickie wedding, a gambling debt, or a rehab stint?
Should you enjoy a fling with a sizzling backup dancer or reconnect with Han Lee, your Korean pop star ex—or is your soul mate someone closer to home?
Every choice has a juicy consequence, and the potential for steamy fun, fulfillment, tabloid scandal . . . or even a fatal misstep. The choice is yours . . .
You can purchase POP STAR at:
http://www.kensingtonbooks.com/book.aspx/34486
Author Bio:
A lifelong fan of pop culture and a Choose Your Own Adventure series aficionado, Meredith Michelle combined these two inspirations to create the Pick Your Own Plot Bedventure series. Meredith is a Washington DC native and lives in the DC suburbs with her husband and three children.
Author Links:
Twitter: https://twitter.com/authorMMichelle
Facebook: https://www.facebook.com/Meredith-Michelle-Author-1315315668519882/