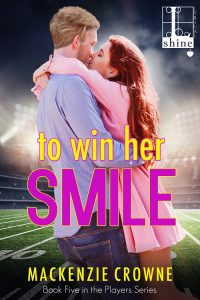 WRITING PERKS by MACKENZIE CROWNE
One of the perks of being an author is getting to spend as much time as you want behind the scenes with your characters. Sounds fun, right? Trust me, it rocks, but it can also be bittersweet. Like when you finally type "The End." That's where I find myself with this month's release of To Win Her Smile. After several years spent immersed in the lives of my hunky athletes, my Players Series is complete.
The truth is, when I sat down to flesh out a story about a sexy tight end and a female football blogger, a series was the last thing on my mind. I've been a romance novel lover since I was a teenager, which is about how long as I've been a football fan, so combining the two came naturally enough. But, what I didn't expect was the supporting cast of characters who showed up to play along with Jake and Gracie in book #1, To Win Her Love.
Not that I'm complaining, but shortly into the writing of Jake's story, his hunky friends started coming out of the woodwork of my mind. One scene with Tuck and I knew he wouldn't let me rest until I'd given him his own HEA—after his heroine and I jerked him around for a while, of course. The same goes for Max, Sam, and finally Wyatt in book 5, whose ladies gave them each a solid run for their money.
As both a reader and a writer, I love stories full of heart with strong heroines and solid heroes. Fun characters who make me laugh, the type I'd love to sit down with to share a martini, are my weakness. With my "Players" gang, I'd have ended up smashed, but the laughs and heartfelt emotion of their individual quests toward their HEAs would have been well worth the hangover.
Alas, all good things come to an end, but a beloved character lives on forever in the mind. I've had a blast watching my "boys" and their ladies fumble their way into love and each of them will forever hold a special place in my heart, but they belong to the world now. I hope you'll look them up and get to know them.
I suggest sipping the perfect Cosmo while you do. They're easy. Just fill a cocktail shaker with ice then add vodka, triple sec, cranberry juice and lime juice. Shake the cocktail shaker for about 30 seconds until well chilled, pour, and enjoy!
TO WIN HER SMILE………………
Sometimes love and luck collide . . . 
When sultry British Baroness Piper Darrow falls on desperate times, she needs a diversion—and cash. As a talented photographer, she jumps at the chance to travel to the U.S. for a Manhattan Marauders football event. But she gets more than she bargained for when buff quarterback Wyatt Hunter's errant pass lands . . . in her face. And when it results in Wyatt's comeback of a lifetime, the superstitious athlete is convinced Piper is his good luck charm . . .
With his sights on the Super Bowl, Wyatt will do anything necessary to keep Piper close. The fact that she's a feast for the eyes is a bonus. And as they get closer, he discovers that beneath her proper English surface is a sweet, sexy seductress. Soon the notorious playboy finds himself genuinely smitten, and surprisingly open to love—until his powerful family uncovers something about Piper that threatens to shatter his trust. Now he'll have to decide whether to team up with his fears, or his heart.
You can purchase TO WIN HER SMILE at:
Kensington Books
About the Author: Mackenzie Crowne is a 10 year breast cancer survivor and PA to Freeway, a wild pound puppy, Zoe, the blind cat, and Gato, a stray Tom with a big heart. Mac lives in the desert southwest with her own personal hero and resident MacGyver. In her spare time, she's a bestselling, award winning author writing contemporary romance with a side of sass.

Author Links:
Website: http://mackenziecrowne.com
Twitter: https://twitter.com/MacCrowne
Facebook:  https://www.facebook.com/MackenzieCrowne