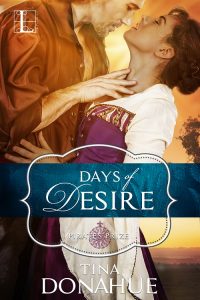 Days of Desire by Tina Donahue and what happens when you find impossible love in the absolute worst place
As a romance author, I adore complications in my tales that keep a reader on the edge of her seat and makes her wonder if the star-crossed lovers will find their happily ever after.
To accomplish that in Days of Desire, book two in my Pirate's Prize series, I stacked the deck against my hero Royce before Simone even comes on the scene. She's a woman he never expected to meet much less fall in love given the plan he has in mind.
The hurdles these two face…
Royce is a disgraced former noble, so impoverished he has to take on the role of mercenary to gain funds to rescue his mother and sisters from servitude in the Colonies. Simone, on the other hand, is an island woman, skilled in healing. Let's face it—a match like that simply wasn't done in 1717, especially for the aristocracy. Their journey to love won't be easy.
Royce hasn't landed on the island for exploration. He's been sent there to bring down an elusive pirate…and to capture the natives, including Simone, so they can be sold into slavery. He either accomplishes that or his mother and sisters will be lost forever to him.
Years before, Simone and the other islanders were brutalized by English pirates. Royce seems different to her. A good man she can trust. But can she?
Caught between rescuing his family and living out his days with his beloved Simone, Royce faces an impossible decision that may put her life at risk and end in tragedy for everyone.
Complications. They make romance come alive.
DAYS OF DESIRE……..
In a pirate's lair, nothing is as it seems . . .
Shipwrecked! When Royce Hastings is found washed up on the shore of a verdant tropical island, he tells the natives he is a merchant headed for Mozambique. The truth, however, is far more mercenary. Noble by birth, the once favored Royce has lost his fortune and family; now he is a hired henchman on the trail of an elusive pirate. His "shipwreck" was a fake. He'll stop at nothing to infiltrate the island and capture his prey. His mother and sisters' lives depend on it.
The last thing Royce expects is to be captured himself. But the lovely young woman who tends to his wounds in the tropics quickly takes hold of his heart. Simone is the island's healer, and her skilled ministrations not only awaken his soul but disturb his conscience. His path has been predetermined; his identity must remain concealed at all costs. Yet the passion he feels in Simone's sultry, loving arms cannot be denied. With his loyalties torn, Royce must make an agonizing, unthinkable choice…
You can purchase DAYS OF DESIRE at:
Kensington Books 
About the Author: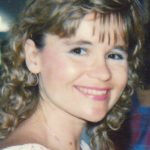 Tina Donahue is an Amazon and international bestselling novelist in erotic, paranormal, contemporary, and historical romance for traditional publishers and indie. Booklist, Publisher's Weekly, Romantic Times and numerous online sites have praised her work. She's won Readers' Choice Awards, RWA awards – Holt Medallion and NEC, and won a Book of the Year award. She's featured in the Novel & Short Story Writer's Market. Before penning romances, she worked in Story Direction for a Hollywood production company.

Author Links:
Website: http://tinadonahuebooks.blogspot.com/
Twitter: twitter.com/tinadonahue
Facebook: https://www.facebook.com/DonahueTina1/