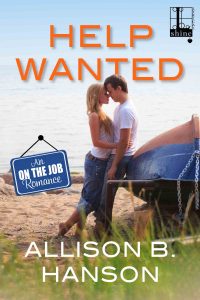 Allison B. Hanson on Characters and Workplace Romance
Like most authors, I'm often asked where I get inspiration for my stories, or if my characters are based on anyone I know. For the most part the answer regarding my characters is always no. My characters come to me in their own way—normally around four in the morning—and they are as individual as anyone you would meet in real life.
The stories and scenarios I place them in, however, are sometimes based loosely in reality. Just not always my own personal reality. This is the case with Help Wanted, the first book in my On the Job Romance Series. Anyone who has ever spent time in a workplace environment can tell the tales of office romances and co-workers hooking up in the breakroom, or parking lot, or in front of the security cameras after hours.
We spend so much time with our workplace counterparts it would be impossible for romance not to spark here and there. We're brought together by a common thread, we work in the same place, we know the same people, and we struggle with the same things. Usually many things. Why wouldn't we seek comfort and support from the people who are experiencing the same things we are? And while seeking comfort and support, we sometimes stumble across… love.
Sometimes those romances are kept secret and sometimes they're open. Usually depending on the positions of the participants within the company. And sometimes—as in the case of the security cameras—they are meant to be a secret, but everyone knows.
One thing is for certain, no matter how much the couple might want to keep their relationship under wraps it usually comes out. The hotter the chemistry the more difficult it is to hide.
As an author, I may take certain liberties when I see someone cast a longing glance across the boardroom table at one of my co-workers. Maybe it isn't that they are longing for the other person, but rather for the meeting to come to an end so they can go to lunch. Still, in my book world, every glance and smile means something enticing and romantic. Who doesn't look for ways to make the work day more interesting?
According to a study from 2012, 59% of employees have dated someone they worked with, and of those, 31% have ended in marriage. Not too bad.
President and Michelle Obama met at work. So did Bill and Melinda Gates. And, of course, how many co-stars end up tying the knot in real life after pretending to do so on television and film?
In Help Wanted, romance sparks between the owner of the company and his newly-hired assistant. Despite trying to keep it professional, the chemistry between them makes it almost impossible to concentrate on work. When they finally give in, they're faced with the next challenge in a workplace romance. How to handle the aftermath?
Will they let things go back to the professional daily grind and pretend everything is normal, or will they give into their feelings and see where it goes?
HELP WANTED by Allison B. Hanson
An On The Job Romance #1 (NEW SERIES)
For Kenley Carmichael, getting fired for sleeping with the boss's husband is almost funny—at 28, she's still a virgin. Not that her now ex-boss would believe it—Kenley's got the face and figure to attract plenty of men, even if she's never found the right one. A job at New Haven Custom Boats is a chance to start fresh and learn a whole new skill set. Trouble is, she can't stop wishing her incredibly hot new boss would introduce her to some decidedly un-businesslike pleasure . . .
Zane Jackson needs a new assistant, but when his pregnant sister hires her replacement, she chooses a girl who reminds him of the kind who broke his heart in high school. Zane might not be that shy boy anymore, but sweet, sexy Kenley makes him feel every bit as awkward as he did then—and even hungrier to kiss her. She's the perfect woman for the job—but he wants her to be so much more.
Interoffice dating can only lead to trouble—unless it leads to true love . . .
Click here for a sneak peek!
Available now at: Amazon, Barnes and Noble, iTunes, Kobo
ABOUT THE AUTHOR:
Allison B. Hanson lives near Hershey, Pennsylvania. Her novels include women's fiction, paranormal, sci-fi, fantasy, and mystery suspense. She enjoys candy immensely, as well as long motorcycle rides and reading. Visit her at www.AllisonBHanson.com.
Author's Twitter: www.twitter.com/AllisonBHanson
Author`s Facebook: www.facebook.com/people/Allison-B-Hanson/100003793842190