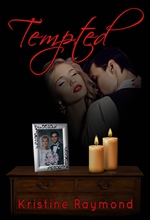 Tempted by Kristine Raymond
Thirty years of marriage to the same man.  An illicit proposition by an attractive stranger.  Which would you choose if you were tempted?
Taking care of her husband's every need while putting her own aside, Jane Sims' life seems picture-perfect.  There's just one problem.  She's desperately unhappy.
A chance encounter with a total stranger changes how Jane looks at her marriage, her life, and herself.  At first, flattered when the charismatic man flirts with her, she quickly dismisses him.  When they run into each again, a casual conversation over coffee leads her to fantasize about more than talking.  Convinced her husband no longer finds her attractive, she considers accepting the man's proposal of a liaison, oblivious to the fact that her choice will affect not only her life but the lives of those around her.
As the temptation to take a lover grows, her world spirals down around her, threatening to obliterate relationships that have taken years to develop.  Is a moment or two of passion worth ruining the life she's worked so hard to create?
Desire.  Deception.  Tempted.
EXCERPT:
"What's your name?" she asked, reining in her raging libido.
"Derek Hampton.  Anything else you'd like to know, Jane?"
"Wait…what?  How do you know my name?"
"I have a confession to make."  Lowering his voice, he leaned towards her.
Certain the entire coffeehouse could hear her heart pounding, she said, "A confession?"
"I read your name off an envelope you had laying in your car.  You should be careful leaving your mail in plain sight like that.  You never know who may be watching – Jane Sims, 1397 Brookside Lane."  Sitting back in his chair, Derek enjoyed the play of emotions on her face; first confusion, then embarrassment, and finally, awareness.  He knew who she was and where she lived.  And right now that was a hell of a lot more than she knew about him.
"How did you know I'd be here today?  Have you been following me?"  Her voice quavered, and she looked around nervously.
"You dropped your card in the parking lot last week.  I figured anyone who had eighteen out of twenty holes punched was bound to come by sooner or later.  So I decided to wait for you.  I've enjoyed sampling their menu."  He'd also enjoyed flirting with every woman who'd crossed his line of sight, but it was Jane whom he wanted to see.
Resting her hands in her lap, Jane tried to calm her jittery nerves.  In her periphery, she could hear soft jazz coming from the speakers, the clanging of spoons and chatter of conversation.  She could smell the coffee and baked goods, but all she could see was him.  His eyes were laser-focused on hers, arousal evident in their hazel depths.  Squirming self-consciously under his perusal, her body responded accordingly; her pulse quickened, her breathing grew shallow, and a delicious throbbing pulsated between her legs.
She couldn't determine his age – mid-thirties to mid-fifties maybe?  Not that it mattered.  She wasn't going to see him again after today, the realization leaving her feeling bereft.  To distract herself, she studied his hands, his long fingers wrapped around his coffee cup, and wondered what they'd feel like stroking her skin or buried inside of her.
Blushing, she turned away, missing the quirk of his mouth as he accurately surmised the cause of her embarrassment.  Sliding back her chair, she prepared to leave.  "Well, thank you for the coffee and for returning my card.  It was nice of you.  Most people would have left it lying on the ground."
"I'd like you to stay," he stated softly.
Her stomach quivered at his seductive tone, and she lowered herself back into her seat.  "Why?"
"I think you know.  Can't you feel it?  I know you can.  It's in your eyes, the way your pupils are dilated and in that fine sheen of perspiration glazing your skin.  I see it in the rise and fall of your breasts and hear it in the tremble of your voice.  You want me," he stated, matter-of-factly.
Jane shook her head, unable to voice her denial because it would be a lie.  He was right; she did want him.  It was crazy.  He was a complete stranger.  For all she knew, he was a serial killer who met women in grocery stores before buying them coffee and slaughtering them, but the thought of him inside her was the only thing on her mind.  She was being seduced at 10:30 in the morning in a coffee shop, and she was letting it happen.
You can purchase TEMPTED at:
Books 2 Read
About the Author: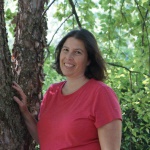 Kristine Raymond didn't figure out what she wanted to be when she grew up until later in life.  If you haven't guessed, it's being an author.  Since writing and publishing her first book in 2013, she's gone on to complete two romance series – one historical western and one contemporary – write an anecdotal, non-fiction short about her first year as an indie author, and try her hand at contemporary erotic drama.  When she's not writing, she's learning how to navigate the publishing and promotional side of the business.  When she's not doing that, she enjoys spending time with her husband and furry family, reading, gardening, and binge-watching shows on Netflix.
Follow her on Facebook, Twitter, BookBub, and Google+.  You can also visit her website at www.kristineraymond.com to keep up with her latest news or write to her at:
Kristine Raymond
PO Box 28
Brownsville, KY  42210
You can also sign up for her newsletter here.