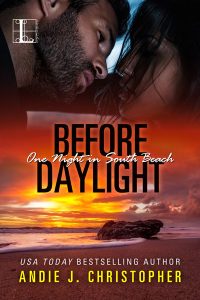 BEFORE DAYLIGHT: One Night in South Beach from Andie J. Christopher and A Little Mai Tai….
My latest release, Before Daylight, involves a fake wedding brought on by too many mai tais. The oops-we-got-married trope is one of my favorite in romance because I love seeing two people who would never make it down the aisle under ordinary circumstances find themselves legally bound and falling in love despite themselves.
If you follow me on social media, you know how much I enjoy a nice cocktail from time to time. And one of my favorites is the mai tai. My secret to enjoying a mai tai is to swap out the sugar with stevia extract and the triple sec with orange juice, which greatly reduces the chance of a hangover. Then I top it with soda water for a lovely refreshing cocktail.
Skinny Mai Tai Recipe
(Serves 2)
2 shots aged rum
2-4 drops of stevia extract
Juice of one lime
Juice of one half orange
Soda water to top
Pineapple Wedge
Cherry
Lime wedge
Put the rum, stevia, lime juice and orange juice in a shaker filled with ice
Shake up the ingredients
Pour into a highball glass filled with ice
Top with soda water
Garnish with pineapple wedge, cherry, and lime wedge
Pretend you've been transported to a tropical locale while you enjoy responsibly
BEFORE DAYLIGHT………..EXCERPT
How many Mai Tais—and how much tequila—had she had to drink? The only way she would have gotten married was if she'd been bombed out of her mind—or if he'd tied her up and dragged her down the aisle. But that would have left a mark.
If she had been on her guard, acting like herself, this never would have happened.
Images of a pink beach and matching pink drinks flooded her consciousness. The soft caress of the Indonesian breeze, the fuzzy joy at seeing her cousin, Carla, joyfully happy on her wedding day, and her disquiet at how much she didn't miss dancing during the three months she was out of commission from a groin injury slammed into her mind from the recesses of her memory. Since returning to the ballet, she'd stuffed thoughts of that night down so far that they exploded back like matter packed too densely in space.
But, every so often, her mind drifted to kissing Charlie at sunset, away from the crowd. It was the craziest thing she'd ever done—kissing a stranger. She couldn't get the feeling of his lips on hers out of her head. It was as though he'd stamped an impression on her, an invisible tattoo of his effect on her. Her entire life up until that point had been about discipline, training, dieting, and taking in criticism. She'd been a changeling at the behest of everyone in her life, and she knew that she could never let anyone know what was underneath her exterior. But there was something about the way he'd looked at her that had penetrated the wall she'd built around herself to avoid the pain of feeling she was never quite good enough, never quite the best. The feeling of his gaze on her skin—the feeling of him really looking at her—lingered along with the imprint of his mouth.
Either that, or she'd been so addled from the champagne toasts and tropical drinks that she'd lost her ever-loving mind. Crazy was the only thing that could explain how she ended up married to a sleazy reality TV producer who was once taped railing drunkenly about "bitches always breaking his heart." She didn't care that he was friends with her cousin and her cousin's husband. Well, technically, their employer—he produced an apparently non-sleazy reality travel show featuring her cousin, Carla, and Carla's new husband.
And he hadn't seemed like a slime ball at all when she'd seen him at the bar. But she'd married him. What the fuck was wrong with her?
If you need to find out what happens when Laura demands an immediate divorce, grab Before Daylight. It's available now!
You can purchase BEFORE DAYLIGHT: One Night in South Beach at:
Kensington Books
ABOUT THE AUTHOR:
USA Today Bestselling author Andie J. Christopher writes edgy, funny, sexy contemporary romance featuring heat, humor, and dirty talking heroes that make readers sweat. She grew up in a family of voracious readers, and picked up her first Harlequin Romance novel at age twelve when she'd finished reading everything else in her grandmother's house. It was love at first read. It wasn't too long before she started writing her own stories — her first heroine drank Campari and drove an Alfa Romeo up a winding road to a minor royal's estate in Spain. Andie lives in the Nation's Capital with her French Bulldog, Gus, a stockpile of Campari, and way too many books.
For rights inquiries, contact Courtney Miller-Callihan of Handspun Literary Agency. 
For info on new releases, sales, and more, sign up for her newsletter.