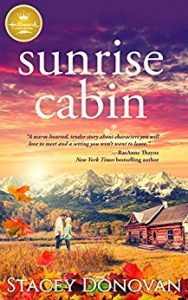 Sunrise Cabin by Stacey Donovan
Two very different people…
One very special place.
Dylan's an overworked investment banker. Paige is a free-spirited first-grade teacher. From the first time they meet, these two opposites attract.
Meanwhile, the cabin Paige is renting has gone up for sale. She loves living there, and she just might be able to buy it—if she finally achieves her dream of selling her children's stories. When she learns Dylan is also determined to buy the cabin, their new romance turns into a real estate rivalry.
Dylan could explain his own connection to the place…but that would mean opening up about his past. As his relationship with Paige goes from funny to touching, they both learn more about love and the true meaning of home.
This feel-good romance contains a free Hallmark original recipe for Maple Pecan Streusel Muffins With Cider Glaze.
EXCERPT:
At the coffee shop, a long line of people stood waiting to order. Great. He should've gotten an earlier start to the day. He tried to tamp down his impatience by looking at stocks and scanning business headlines on his phone. When he finally reached the counter, he made his usual order—black coffee, the largest size, the darkest roast—left a dollar in the tip jar, and sat down at the counter. After taking the first blessed sip, he opened his laptop and pulled up the PowerPoint presentation. He never should've taken the whole Sunday off from work. It always made Mondays worse.
A woman with wavy, shoulder-length blonde hair draped her red jacket over the back of the chair right next to him and sat down. Odd. There were other empty seats. She didn't seem to notice him, though, as she set a whipped-cream-topped beverage in front of her. A pumpkin spice latte, no doubt, given that it was the first day of October. In fact, little orange pumpkins dotted her purple dress, so she probably loved fall. Where did a grown woman even buy a dress like that? He could imagine one of the women in his office showing up for a meeting in it instead of their usual tailored clothing in gray and black. Honestly, it would be hilarious.
This woman looked to be maybe a few years younger than his own age of thirty-four, though the purple pumpkin dress no doubt contributed to that impression. So did the slight smile on her face and the bright pink lipstick that contrasted with her pale complexion. She dug through a huge, shiny yellow purse and pulled out a turquoise book. He was practically sitting next to a rainbow.
She looked up at him. Busted. He hadn't meant to stare at her. "Hi, how are you?" she asked in a tone of polite good cheer.
He didn't really have time for a conversation, even if she was cute. And okay, she was, in a quirky way.
"Eh, it's Monday," he said.
Why had that come out of his mouth? One of the assistants at his office always said it on Monday when people asked how she was doing. Sometimes he'd think to himself in a surly way, Thanks, I know what day it is.
"Best day of the week," the woman quipped and opened her book, apparently finished with the conversation.
Wait, what?
Nobody believed that. Maybe she wore all those bright colors because she was, in fact, a crazy person. An adorable crazy person, but still.
He focused on his laptop screen and tried to check the five-year projections in the appendix. They'd revised it four times, so it would be easy to have a mistake here…
No. This was bugging him too much. He turned back to the woman and demanded, "How is Monday the best day of the week?"
She glanced up again from the book—or the journal, apparently; she had a pen in her hand. Her blue eyes were wide, guileless. "I call it Clean Slate Monday."
"Clean Slate Monday," he repeated, as if that explained anything.
She nodded. "You know, like if your last week—or actually your last month, or your last year, or whatever—if you had disappointments, or you messed up, you can forget about all that. Because it's a brand-new week. A fresh start." As Dylan stared at her, she took a sip of her latte, then wiped off a bit of foam that clung to her upper lip. She shrugged. "Anything could happen."
YOU CAN PURCHASE SUNRISE CABIN AT:
Amazon
ABOUT THE AUTHOR: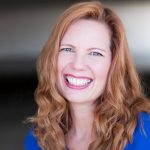 Stacey Donovan grew up in central Illinois, earned her MFA in Creative Writing at the University of Arizona in Tucson, and was a Master Writer at Hallmark in Kansas City, where she wrote several gift books and children's books. She now lives in Los Angeles with her husband and their three rescue dogs. A true optimist, she loves stories with happy endings, random acts of kindness, and adventures big and small.