Patricia Walters-Fischer has a thrilling talk with internationally bestselling author Karen Rose about her novel Say No More!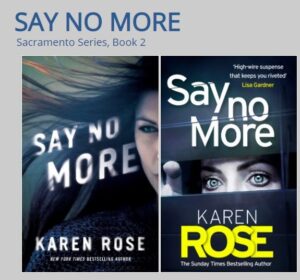 You can listen to the podcast HERE
ABOUT THE BOOK:
About the book: Michael Rowland is not your typical teenager. Deaf from birth, he's always looked out for his five-year-old brother, Joshua. When his stepfather comes after Joshua, Michael takes the child and runs. He's determined to protect his brother at all costs, even if that means making himself vulnerable to a danger he can't hear coming. And the danger intensifies when Michael witnesses a stranger kill his stepfather.
Desperate and afraid, the boys have nowhere else to go but to Joshua's soccer coach, journalist and ex-Army ranger Diesel Kennedy. When Diesel sees that Michael is injured, he takes them to see Dr. Dani Novak—not only because she's fluent in American Sign Language, but because he's drawn to her and everything she stands for. She never refuses Diesel's requests—because she, too, feels their connection—but she resists him for reasons she doesn't want to confess.
When Dani and Diesel learn that Michael saw the face of his stepfather's killer, they fear for his safety. But they quickly discover that it's even worse than they feared: They may have a serial killer on their hands—and all signs point to Michael as the next target.
ABOUT THE AUTHOR: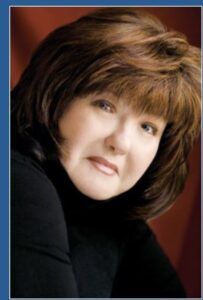 Internationally bestselling author Karen Rose was born and raised in the Maryland suburbs of Washington, DC. She met her husband, Martin, on a blind date when they were seventeen and after they both graduated from the University of Maryland, (Karen with a degree in Chemical Engineering) they moved to Cincinnati, Ohio. Karen worked as an engineer for a large consumer goods company, earning two patents, but as Karen says, "scenes were roiling in my head and I couldn't concentrate on my job so I started writing them down. I started out writing for fun, and soon found I was hooked."
Her debut suspense novel, DON'T TELL, was released in July, 2003. Since then, she has published more than fifteen novels and two novellas. Her twenty-fourth novel, SAY NO MORE, will be released in 2020.
Karen's books have appeared on the bestseller lists of the New York Times, USA Today, London's Sunday Times, and Germany's der Spiegel (#1), and the Irish Times, as well as lists in South Africa(#1) and Australia! To date, her books have been translated into more than twenty languages.
​​