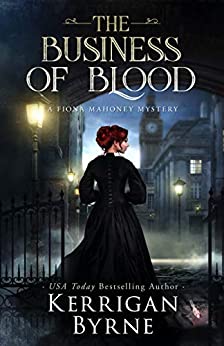 THE BUSINESS OF BLOOD BY KERRIGAN BYRNE
I love Kerrigan Byrne's Historical Romances. If The Fiona Mahoney Mystery is going to be a romance between Fiona and another character, it's going to be a slow burn build across the series, for various reasons. And this is perfectly fine with me because I was treated to an amazing historical mystery thriller, in my opinion, on par with The Alienist, The Dante Club, and the Sebastian St Cyr series.
I love Kerrigan Byrne's historical voice. The pace perfect for the situation the characters are facing. Fiona is a wonderful character, strong, intelligent, flawed, and vulnerable. She walks a tightrope between her conscience and what she needs to do to survive. Her business of Post-mortem Sanitation challenges her, helps drive the plot and her need for vengeance due to deaths and murders that have touched her life. A past and broken dreams haunt her, keep her from living and understanding the present, moving toward the future. Revelations through the storyline forces her growth and to see others more realistically. How your past builds you but your choices define you is woven through the characters.
.
This is an amazing suspense thriller, I had trouble finding a place to put the book down, events in the story kept me turning pages, suspicions built towards one character kept me guessing in a possible red herring way. All characters are fleshed out.The storytelling makes them human, had me liking them and suspicious of them at the same time, seeing them as Fiona views them. All of them revealed and woven through the plot solving the raw murders terrorizing London. Danger towards characters had me holding my breath, events going on around them and reactions from characters toyed with emotions and at times amused. The murders and lives Fiona is tangled with keep a vibe of a dark sinister London surrounding you, chills and edge of your seat reading awaits. Making you wonder if Jack the Ripper has returned, a criminal with whom Fiona has a unique history and perhaps present.
Her Aunt Nola is a favorite character who adds foreboding with a touch of humor, along with names known to the era, such as Oscar Wilde. The Business of Blood ends on a bit of a cliffhanger pulling Fiona from a crossroad and bringing her back to chasing her revenge and walking along her tightrope. Cannot wait to see what awaits her and the handsome, yet ornery, Grayson Croft in Book 2 A Treacherous Trade .