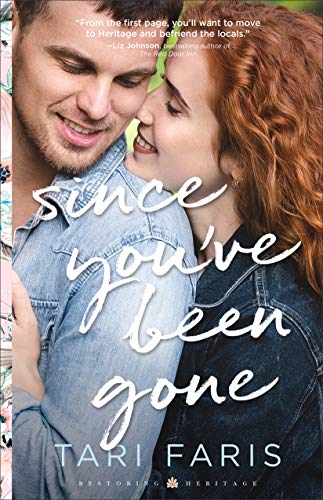 SINCE YOU'VE BEEN GONE BY TARI FARIS
Faris Welcomes Fans Back to the Small Town with a Big Heart in Series Conclusion. . .
In 2019, Tari Faris introduced readers to a new contemporary romance series, Restoring Heritage. Since that time, fans have enjoyed immersing themselves in the complicated, funny, endearing lives of the people of Heritage, Michigan in You Belong with Me (September 2019) and Until I Met You (September 2020). Now Tari wraps up this sweet series with Since You've Been Gone.
After a failed business venture, Leah Williams returns to her hometown. She is determined to try to make her business a success—even if it means working with Jonathan Kensington, the man who exasperated her back in high school.
Jon has also recently returned to town in order to prove to the Heritage Fruits board that he is the right man to be running his late father's business—rather than his manipulative uncle. Striking a deal to save both their interests, Jon and Leah become partners and sparks soon fly in love and business—but mixing business with pleasure might prove more difficult than they thought.
As Jon and Leah jockey for control of the reins, they'll have to bury the past and learn to trust each other. Filled with faith, fun, and sweet romance, Faris delivers a heartwarming conclusion to the series in Since You've Been Gone.
TALKING ABOUT THE BOOK WITH TARI………
Each of the books in the Restoring Heritage series focuses on a new development in the town of Heritage. Can you please tell us a little more about what your newest book, Since You've Been Gone, contributes to the series and the town?
Where the first two novels were about clearing and landscaping the town square, this novel focuses on a business along the square as well as the largest employer in the area, Heritage Fruits. As much as we want Heritage to look cute for it to succeed in the future, the local business must also thrive. My hope is that it will leave the reader with a hopeful feel of Heritage's future. Who knows, maybe someday we will return.
When Leah returns to Heritage, she learns that she is going to have to readjust her plans and dreams in order to discover a new one. Without giving away any spoilers, can you give readers a hint of what this might look like for Leah?
In the prequel novella P.S. Goodbye, Leah and her twin Caroline close the family business they inherited and leave Heritage to pursue other dreams. In Since You've Been Gone, Leah assumes she can return and pick up where she left off. She soon discovers that restarting a business that was failing before is almost impossible. Leah will have to decide on how much she is willing to bend on her plan to make the dream happen.
Jon and Leah have both returned home to Heritage, but for very different reasons. What motivates Jon to come home and how has his relationship with Leah been complicated by their past?
Jon initially returns because his sister has been kicked out of her private boarding school. But now that he is back, he decides it is time to finally take on the position that his father left him, owner of Heritage fruits. But taking the reigns back from his uncle is proving more difficult that he hoped.
Jon and Leah's past was mostly complicated because they saw it very differently. Jon always had admired Leah, but Leah saw his confident attitude and wit as his way of making fun of her. Even after she finds out the truth, she has a lot of baggage preventing her from letting him too close.
The fictional town of Heritage has become a place of finding new life and new hope in community for its residents. More than that, it is a place where love seems to be just around the corner. Can you tell readers why you chose this setting for your series?
I grew up in a small town and I love the community aspect of it. There can be times when the fact everyone knows your business can be frustrating. But there is also a peace in knowing that you never have to go through anything alone, even when you want to. I miss it so much now that I live in a city and wanted to create that closeness for my readers because I think we all long for it.
What do you hope readers have learned or experienced from the Restoring Heritage series?
That God is a God of second chances—and third and forth . . . He is about pulling us out of our darkness and being the light to our path. Everyone of my characters in the series finds a second chance of sorts. And I hope my readers will see that no matter the situation, God is a God and second chances.
What are you working on next?
I am working on a series on the North Rim of the Grand Canyon that will combine the feel of small-town community with a touch of adventure and mystery. Logan and Liam, who we met in You Belong with Me will each finally get a story along with many new faces.
How can readers connect with you?
I am on several social media sites, and you can find those links as well as my newsletter sign up at tarifaris.com.
ABOUT THE AUTHOR: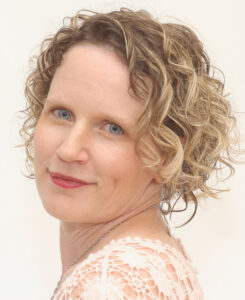 Tari Faris is the author of You Belong with Me and Until I Met You. A member of American Christian Fiction Writers and My Book Therapy, she is the projects manager for My Book Therapy, writes for learnhowtowriteanovel.com, and is a 2017 Genesis Award winner. She has an MDiv from Asbury Theological Seminary and lives in the Phoenix, Arizona, area with her husband and their three children. Although she lives in the Southwest now, she lived in a small town in Michigan for 25 years. Learn more at TariFaris.com.