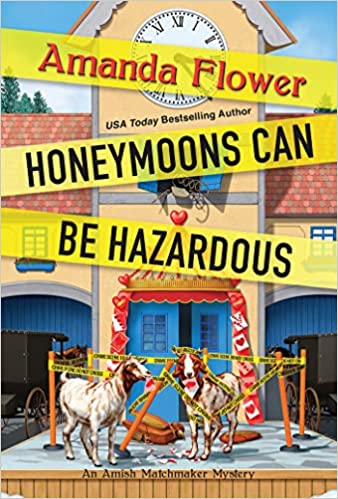 Honeymoons Can Be Hazardous – An Amish Matchmaker Mystery #4
By Amanda Flower
Set in the fan favorite Amish village of Harvest, Ohio, the latest novel in USA Today bestselling author Amanda Flower's Amish Matchmaker series brings back the unlikely sleuthing duo of an Amish widow and her zany, thrice divorced best friend. Will appeal to fans of cozy mysteries, small-town mysteries, wholesome romance, inspirational fiction, and readers of Jennifer Beckstrand, Charlotte Hubbard, Rachel J. Good, and other authors of Amish fiction.
Widowed matchmaker Millie Fisher is anything but lonely between her mischievous goats, her quilting circle—and her habit of solving the odd murder or two . . .

Millie's decidedly not Amish best friend, Lois Henry, is outspoken, colorful, and so hopelessly romantic, she's had four husbands. Millie doesn't judge, and she also doesn't expect to run into Lois's most recent ex, gambler Gerome Moorhead, in small-town Harvest, Ohio. With him is the very young, new Mrs. Moorhead, aka "Honeybee." Lois is outraged, but Millie is completely shocked to learn the next day that Gerome is already a widower . . .
When a large wood carving at the cozy Munich Chalet falls on "Honeybee," all eyes turn toward Lois. Who else would want a tourist—a complete stranger—dead? And half of Harvest witnessed Lois's enmity toward the young woman. Suddenly Millie must put aside her sewing needle and flex her sleuthing skills. She's no stranger to a murder investigation, after all, and if she doesn't learn who killed Honeybee, Lois could go from Millie's boisterous best friend to her horrified prison penpal . . .
Purchase at:::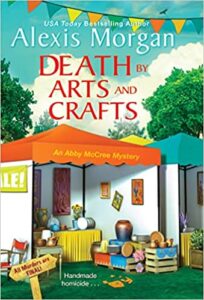 Death by Arts and Crafts – An Abby McCree Mystery #6
by Alexis Morgan
When a killer's handiwork threatens Snowberry Creek's first-ever arts and crafts fair, committee member and amateur sleuth Abby McCree starts looking for glues in this delightfully crafty new installment in Alexis Morgan's USA Today bestselling cozy series set in the Pacific Northwest!
As the newest member of the Snowberry Creek City Council, perpetually overextended Abby McCree is picked to liaise between the council and the new planning committee for the town's first ever arts and crafts fair. As far as gigs go, it's a fun one—Abby's spending the weekend tooling around Washington State, checking out similar fairs with her two besties, coffee shop owner Bridey Roker, and ceramic artisan Dayna Fisk.
As Abby spreads the word about Snowberry Creek's fair, recruiting the industry's biggest movers and makers, the trip feels like a glittering success. But then, someone is found murdered at one of the events and vendors begin disappearing amid suspicious circumstances. Abby's determined to keep her hands clean, until Dayna finds herself stuck at the top of the suspect list. Now, Abby must weave the clues together and clear her friend's name before the killer claims another victim—maybe even Abby herself . . .
Purchase at:::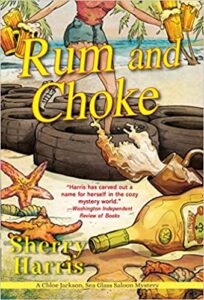 Rum and Choke – A Chloe Jackson Sea Glass Saloon Mystery #4
by Sherry Harris
Sherry Harris gives readers a new adventure to dive into with the latest installment of her Florida-set mystery series, as local bartender Chloe Jackson's search for treasure shores up the dead body of a contestant in the upcoming Panhandle Barback Games…
The Florida Panhandle Barback Games are coming up and Chloe's been drafted to represent the Sea Glass Saloon—competing in various obstacle-course events that conclude with rolling an empty keg up a hill. The rivalries are so fierce that some of the participating bars even stoop to bringing in ringers.
Meanwhile, Chloe's friend Ann—a descendant of the famed pirate Jean Lafitte—asks her to come along for a boat ride as Ann dives into the Gulf of Mexico. She's found some old papers that may identify the location of sunken treasure. Instead, she finds a sunken body—of one of the ringers hired for the Barback Games.  Now that murder is in the mix, Chloe has to figure out whether one of the competitors went overboard . . .
Purchase at:::